7100 tonnes of rails imported from Japan for building the SGR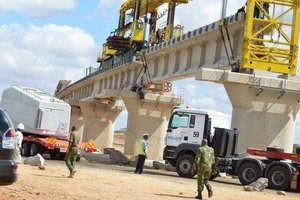 Maizo Mgedzi, the SGR project manager informed local media persons following this story that plans were underway to allow clearance of the rails that have been imported from Japan. A ship carrying 7,100 tonnes of rails to be used in the construction of the SGR has docked at the Dar es Salaam port awaiting offloading. "We expect offloading to start in the coming few days. The rails wll then be transported to the site where they will be fixed on the concrete sleepers," said Mgedzi.
Commenting on why they were importing the rails from Japan and not Turkey the country constructing the SGR, Mr Mgedzi said that Japan has immense experience when it comes to rail manufacturing. Also it is good to note that the firm has been involved in the business for a long period of time. The project is currently 22 percent complete and is expected to contribute significatly to trade and economic growth of the region.
Bill Winters the Standard Chartered Bank Group Chief Executive has confirmed the the UK based financier will release a total of $1.46 billion to boost second phase construction of Tanzania SGR. This phase of the project will connect Morogoro to Makutupora in Dodoma region.
"We will build it up to Makutupora in the second phase. In the later phases we will connect the SGR to Isaka and Mwanza- and ultimately to Rusumo working in close cooperation with our Rwandan counterparts until it reaches Kigali," Tanzania's Finance and Planning Minister Phillip Mpango said.
Tanzania is confident that the Standard Gauge Railway will be the best in Africa upon completion which is taking into consideration speed of passenger trains, the material used in the construction of the SGR, the technology deployed and cargo handling capacity to make the project successful.
Passenger trains for instance, will be able to reach 160km/h compared to Kenya whose passenger trains reach 120km/h. Also the Tanzanian railway line will be electrified. The SGR line will run parallel to the Central Railway Line built by Germans in 1905 from Dar es Salaam to Kigoma, then British government from Tabora to Mwanza from 1923 to 1928, covering some 427km.
Posted on : 21 Sep,2018
Buildmart is Africa's leading directory and market news website for the building and construction industry | Kenya | Tanzania | Rwanda | Ethiopia