Rwanda affordable housing project launched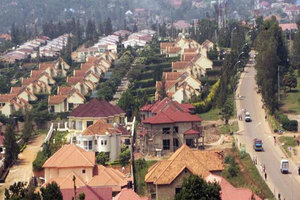 Rwanda Development Bank (BRD) has unveiled a housing project, which promises to ease the shortage of affordable housing in the country.
A certified study by the City of Kigali, the Ministry of Infrastructure, and the European Union showed that Kigali could face a housing deficit of 344,000 homes by 2020.
Currently about 800 and 1,000 housing units are constructed in Kigali annually, the majority targeting high-income earners, leaving the majority of city dwellers without decent housing options. To tide the shortage of housing, the city needs to build at least 31,000 housing units annually. Low and middle-income earners were found to make up about two-thirds of all new housing demand.
The housing project dubbed the 'Ndera Affordable Housing project' follows a 2016 partnership agreement between BRD and Moroccan real estate developer, Palmeraie Development Group when King Mohammed VI of Morocco paid a visit to Rwanda.
During the first phase of the project, 1759 housing units will be developed, with the cheapest property under the project valued at US $31,000. The project is also a shift from the traditional bungalow style to moderately-sized two and three bedroom apartment blocks.
The first phase will cost an estimate of US $35 million and will be implemented under a joint venture by BRD and Palmeraie Development Group with equity injections in the ratios of 25:75, respectively.
The Chief Executive Officer of BRD, Eric Rutabana said the project targets Rwandans who earn a monthly income of between US $227 and US $1,360. He said targeting this income bracket was informed by studies and analyses, which showed that the current real estate market rates often locks them out.
However, the beneficiaries will be required to pay monthly installments not exceeding 40 per cent of their net monthly income.
Some from the Rwandan population are also wary of housing project models following instances where they have turned out somewhat fraudulent leading to unending court cases. However, Rutabana said that they were well aware of the concerns; hence not requiring deposits until the housing units were complete. "In this project we are not taking any deposits from potential homeowners until the project is complete," he said.
The only requirement is that potential home owners provide evidence that they have their contributions ready or can secure mortgages from other financiers. This could see an increase in demand of mortgage products among local financial institutions.
"We are hoping that this model could help raise confidence in the local real estate market and be replicated in the future to reduce exploitation of the market as has happened in the past," he said.
Posted on : 01 Sep,2018
Buildmart is Africa's leading directory and market news website for the building and construction industry | Kenya | Tanzania | Rwanda | Ethiopia