JKIA terminals set for revamp by June next year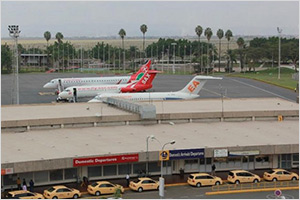 Rehabilitation work on three more terminals at the Jomo Kenyatta International Airport (JKIA) in Kenya will begin by June 2018. On completion, the terminals capacity of the airport will be raised by an additional five million passengers.
Confirming the terminals capacity, Transport secretary James Macharia said that once revamped, the airport will be able to handle 12.5 million passengers a year.
Besides, the Kenya Airports Authority (KAA) has already completed the rehabilitation of terminal 1A, which is currently used by the Kenya Airways and its Sky Team Alliance partners.
"The detailed designs for the rehabilitation of the existing terminals 1B, 1C and 1D are expected to be completed in the next few months with actual construction work commencing by the end of the financial year," added Macharia.
Additionally, the capacity and improvement of facilities at the airport will support the expected growth of traffic at the facility with the launch of direct flights to the US, which should begin by June next year.
Meanwhile, the Kenya government is in talks with the African Development Bank (AfDB) for financial support to construct a second runway at JKIA.
This is because, the capacity on the existing one is almost at 90%, which causes delays and flight cancellations whenever there are plane mishaps on the runway. KAA plans to start the work in the second half of next year, should the funds become available.
In 2016, the authority had estimated that the new runway will cost US $358.7m. The proposed design calls for a 4,800m long and 75m wide runway, including the shoulders, enabling it to handle the largest airplanes in service such as the Airbus A380 and the Being 747-800. The existing runway is 60 metres wide and 4.2 kilometres long.
The new runway will also increase the movement of aircraft from 25 to 45 per hour.
Kenya's aviation sector is currently contributing about 10% of GDP, through facilitation of trade, travel, investment and creation of jobs.
Kenya had earlier planned to put up a new terminal, dubbed the Greenfield Terminal, but the plans were scrapped due to financial pressure and the fact that upgrades to the existing facility were bringing in sufficient capacity.
Posted on : 17 Mar,2018
Buildmart is Africa's leading directory and market news website for the building and construction industry | Kenya | Tanzania | Rwanda | Ethiopia