Tallest residential apartments in Africa - 88 Nairobi Condominium Rising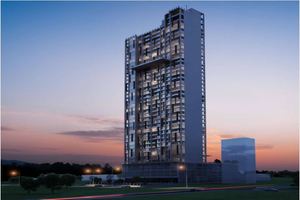 Lordship Africa a prominent real estate development company has broken ground on what is planned to be the tallest private residential building in sub-Saharan Africa.
Sitting on a two-acre piece of land on the corner of Bishop's Road and 4th Ngong Avenue, the landmark residential development will have 44 floors.
According to the developer, the 88 Nairobi Condominium in Upper Hill area features a 44-floor, high-end, dedicated residential condominiums designed to five-star hotel standards. The residential apartments include studio, 1 bedroom, and 2 bedroom apartments and luxury penthouses at 40 floors and above, which will have three or four bedrooms. The residential apartments begin from the 8 floor, with the lower floors containing a gym, parking area, shops and a restaurant.
Designed to five-star hotel standards, and aligned with World Bank and European Union safety requirements, the tower is expected to have 12000 square feet of rental space and an additional 16000 square feet of lush gardens space.
The costing has been done keeping in mind the capacity and profile of the clients, so with a starting price for the 2 bedroom apartments start at Sh22.9 million, renting the same space will set a tenant back by about Sh370,000.
The builders say that they have done a comparison on how much the same apartment costs on other properties.For example, at Gem Suites Riverside, an equivalent goes for Sh400, 000 per month while Serene Valley and Yaya Towers cost Sh390,000 and Sh410,000 respectively. Therefore, they fell that the price is quite competitive.
Construction of the luxury apartment kicks off in April with management saying it may take up to two and a half years to complete. The houses are targeting community of people who work in Upperhill. The location is home to embassies, multi-national corporates, blue-chip financial companies, the center of medical facilities, and the high-profile legal fraternity.
Posted on : 02 Mar,2018
Buildmart is Africa's leading directory and market news website for the building and construction industry | Kenya | Tanzania | Rwanda | Ethiopia