Rwanda secures funds to support water and sanitation projects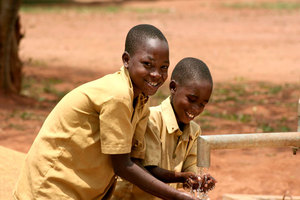 The Rwandan government, Ministry of Finance and Economic Planning, has signed two financing agreements worth US $255.14m with the African Development Bank (AfDB) for the funding of water supply and business development programs in the country.
As per the agreement US $171m will support the Rwanda Sustainable Water Supply and Sanitation Program. The remaining US $84m will promote Skills and Business Development Program. Rwanda's Finance and Economic Planning minister Claver Gatete said the US $171m support is in line with the country's vision, to scale up investments in reliable and environmentally sustainable infrastructure which will also include water and sanitation services.
The program is targeted to improve water supply infrastructure and services and also sanitation infrastructure. It will also keep in check the institutional capacity of Water and Sanitation Corporation. It will cover Kigali and the secondary cities of Rubavu, Rusizi, Nyagatare, Muhanga, Huye, Musanze and Karongi.
WASAC chief executive Aime Muzola said the loan will help in rehabilitation, upgrading and extension of water supply and distribution networks. He further added that it will service the rehabilitation and upgrade of timeworn water supply and distribution systems. Mr. Muzola also spoke of targeting expansion of Gihira II Water Treatment Plant and Nzove Water Treatment Plant.
The US $171m package is expected to be paid back in 25 years. This is with a grace period of eight years at an interest of 2.3%. On the other hand, the US $84m will be paid in 35 years with a grace period of five years at an interest rate of 0.75%. Approximately 1m people will benefit from improved water supply services while 475,000 people will have access to better sanitation services.
Posted on : 03 Jan,2018
Buildmart is Africa's leading directory and market news website for the building and construction industry | Kenya | Tanzania | Rwanda | Ethiopia