US$ 13m FCB Mihrab Opens Shop In Nairobi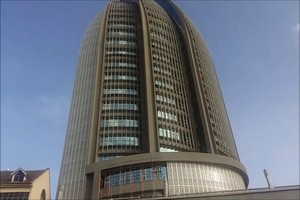 FCB Mihrab which cost US$ 13m has opened to the public. The building portrays Islamic values and is ready for occupation.
The building is located on Lenana Road in Kilimani, Nairobi symbolizes an entry towards purity and goodness; this is according to the Islamic culture. It has been constructed in an upmarket fast developing commercial area, close to CBD and along expanded and new roads.
Farhiya Ibrahim, Mihrab Development Project Administrator, confirmed the reports and said that the Community Bank will be the first anchor tenant. She further said that the development is a 25-storey building and is close to selling out.
FCB Mihrab has several features including an open sky terrace, backup, and main generator. Additionally, it will have high highspeed lifts all connected to the BMS systems for monitoring purposes. Also, cameras will be set up in common areas and it will have a link to the BMS system.
Moreover, artificial moat, a prayer hall, gym and outside cafeteria will also be available. Other environmental amenities are a grey-water recycling system and a water treatment system.
The building was initially constructed to be the headquarters for the First Community Bank. It, however, translated to a bigger firm accommodating and other things like office suites.
About the Developers
Mihrab Development Limited (MDL) a Kenyan based Real Estate Company; is a property developer whose main objective is to elevate the standards in which the industry is viewed by undertaking major strides towards the delivery of state of the art buildings suited for their target clients needs as well as contributing towards their Vision 2030.
Posted on : 13 Oct,2017
Buildmart is Africa's leading directory and market news website for the building and construction industry | Kenya | Tanzania | Rwanda | Ethiopia