NSSF Uganda to Commission US$ 400m Housing Project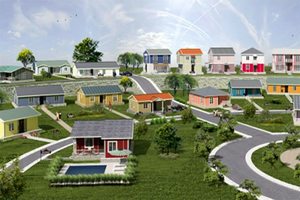 The construction of the 2,740 unit housing project in Lubowa, Wakiso district in Uganda has been officially commissioned by The National Social Security Fund (NSSF).
The project will cost an estimated US$ 400m over a period of 10 years. The development will take place on the Fund's 565 acres of land along Entebbe Road. Richard Byarugaba, NSSF Managing Director says the Lubowa Housing Estate is in response to demand for quality housing for Uganda's middle and first class.
He added that the Fund will make an initial investment for Phase I. Thereafter, the project is expected to be self-financing with projection to complete the first phase in one year. The development will boast office and retail space, as well as other social amenities.
The Board Chairman, Patrick Byabakama Kaberenge said that low-cost housing will be the Fund's real estate strategy going. This will target a significant number of NSSF savers.
The US $4.34m Mbuya housing project, the US $924,000 Jinja commercial complex in Jinja and the upcoming Mbarara commercial complex are some of the other key real estate investments by the Fund.
The Fund which currently boasts of approximately US $2Bn in assets also increased its stake in power utility firm, Umeme, to 23% up from 15% by making an additional investment of about US $16m and is also the largest institutional investor on the Uganda Securities Exchange.
Posted on : 05 Oct,2017
Buildmart is Africa's leading directory and market news website for the building and construction industry | Kenya | Tanzania | Rwanda | Ethiopia