The 66km Fort Portal-Kamwenge Road Gets Commissioned By Uganda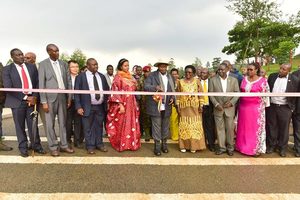 The 66km Fort Portal-Kamwenge road has been commissioned by President Yoweri Kaguta Museveni of Uganda. The class two tarmac road runs from Kamwenge District to Fort Portal town in Kabarole District. At a cost of US$ 33.3mn the Chinese Railway Seventh Group built the road.
The project which began in August 2013 was funded by the World Bank. The commissioning comes after completion of 18 months ago. The handover of the project to the government did not take place until its recent commissioning.
Nonetheless, At the Buhinga Stadium in the western town of Fort Portal the President Museveni addressed the people from the two districts. He appreciated the World Bank for providing the initial funding for the road. The President also applauded the government's position to prioritize roads around the country. Moreover, people along the road are urged to maximize the benefits that come out of such infrastructure.
The Fort Portal-Kamwenge section is part of the Nyakahita-Ibanda-Kamwenge road. Furthermore, the government expects to improve connectivity/accessibility of rural economic and social centres in the region.
It will serve places of high tourism attraction like Kibale National Park, improve access to an area of high agriculture and livestock potential, facilitate mining activities and facilitate the development of the hydropower plant at River Mpanga.
The project connection
The road also connects the northern corridor to western Uganda as well as the Democratic Republic of Congo via the Fort Portal-Bundibugyo-Lamia road.
The Minister of Works and Transport Monica Azuba Ntege, urges the people along the route to put maximum economic use to the upgraded road so as to fight poverty and improve the quality of their living standards.
The government contributed the remaining amount to complete the project even though the World Bank pulled out of the project after a man from Kamwenge defiled a girl.
Posted on : 15 Sep,2017
Buildmart is Africa's leading directory and market news website for the building and construction industry | Kenya | Tanzania | Rwanda | Ethiopia