Construction Of One Of The Most Anticipated Malls In South African Might Be Halted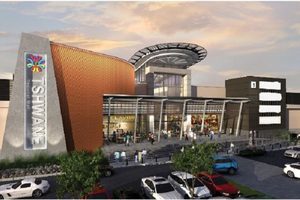 Due to disagreements between the local traders and the developers the construction of Tshwane Regional Mall in South Africa might be stopped for awhile
Some local traders have refused to relocate from the land assigned for its construction. The constant refusal by the traders to make way for the project even after a court order was obtained by developers in February this year instructing them to do so. The US$ 100m state-of-the-art mall has so far lost in the region of US$ 2.6m to US$ 3m which could still increase if the problem does not get solved
"We are eight months behind schedule since October is the completion date," Project head Shadrack Mthethwa said.
90% complete
However, the concrete work on the eastern side of the mall is over 90% complete. There is currently a growing anticipation among shoppers and the local community as to when the mall will be ready.
As a result of a partnership between the Public Investment Corporation (PIC) and Isibonelo Property Services, the mall will provide convenient shopping experience in Mamelodi and the surrounding areas.
Tshwane Regional Mall
The regional mall embraces inclusive growth from its provision for 600 informal trader stalls and a taxi rank to cater for seven taxi associations with 66 routes (areas within Mamelodi, surrounding and long distance such as Groblersdal).
Moreover, this inter-modal shopping mall includes approximately 1 800 private car parking bays and Tshwane Rapid Transport (TRT) station.
The site is located at Mamelodi's main transport hub at the intersection of Stormvoël & Tsamaya Roads and Waltloo & Maphala Drive.
Posted on : 15 Sep,2017
Buildmart is Africa's leading directory and market news website for the building and construction industry | Kenya | Tanzania | Rwanda | Ethiopia