Ultramodern cement factory commissioned in Nigeria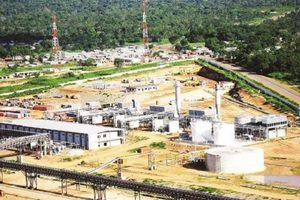 BUA Group recently commissioned an ultramodern cement factory in Okpella, Edo state, Nigeria. Vice President Yemi Osinbajo did the ground breaking of the mega plant.
The US$ 1bn Obu Cement factory is an important milestone for BUA Group, the Cement industry and the Nigeria economy. It will not only make the country self-sufficient in cement production but also a net exporter of the commodity.
Important milestone
"This marks an important milestone, not only for the BUA Group but also for the Nigerian cement industry and the Nigerian economy in general as we witness the official commissioning of the 3 million tonnes Obu cement plant, as well as the ground breaking of the second line of 3 million tonnes plant," said the Chief Executive Officer, BUA Group, Abdulsamad Rabiu
The unveiling ceremony comprised of the 3 million tonnes BUA Cement, Obu Plant line 1 and the ground breaking of the second line of the same capacity.
The foremost industrialist noted that the construction of a second cement plant line of 3 million tonnes was essential. This is because its efficiency in its first year of operation was over 90 percent of capacity utilization.
Environmental friendly cement plant
Globally, this is one of the best cement plants. It is engineered to be the most environmental friendly cement plant in Africa with the most advanced duct emission systems.
It will also use natural gas, which is clean energy for both the kiln as well as the power plant in addition to having a green environment.
Moreover, BUA is constructing another greenfield cement plant in Sokoto State. It will have an annual capacity of 1.5 million tons at a cost of over US$ 300m. Its commissioning will then be in 2018.
In 10 years Nigerian integrated cement manufacturing policy which has transformed the country's cement industry is a signal that Nigeria is closely attaining self-sufficiency in cement production and net exportation.
Posted on : 07 Sep,2017
Buildmart is Africa's leading directory and market news website for the building and construction industry | Kenya | Tanzania | Rwanda | Ethiopia