Zambian Government Buys 2,000 Solar Mills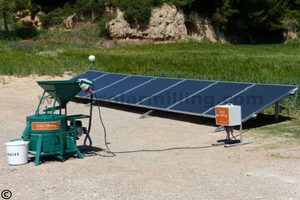 The Government of Zambia has purchased 2,000 solar-powered milling machines. This is under the Presidential Solar Milling Plant Initiative.
According to Chanda Kasolo, Eastern Province Permanent Secretary,"In Eastern Province, there has been an allocation of 358 solar plants. They have been spread across the province."
He said through assistant secretary Royd Tembo that the programme started in December 2015. So far 100 solar milling plants are already set up in five districts in the province. These are Chadiza, Lundazi, Katete, Vubwi and Chipata.
Solar Milling Programme
"The Zambia Cooperative Federation will launch the implementation of the Presidential Solar Milling Plant programme. This is the apex board of the cooperative movement in Zambia," Mr Kasolo said.
He added that the intended beneficiaries of the initiative are primary cooperative societies. They will contribute in value-addition to the staple food of the nation.
"It is the first of its kind to ultimately reduce the cost of processing the staple food and significantly reduce the cost of mealie meal. This initiative will also contribute to the reduction of malnutrition and improve economic stability of the rural communities," Mr Kasolo said.
He further added that this will see the centres transform into economic zones. In these zones the installation of the machines is ongoing and will provide employment at local level.
Mr Kasolo said ZCF has set up provincial training and service centres in order to ensure sustainability and maintenance of the equipment.
"The training programme targets youths in different provinces to undergo training on how to operate the solar hammer mills. The continuity of the solar milling plants largely depends on you, the trainee today," he said. This was during the training of solar milling plant operators.
Posted on : 05 Sep,2017
Buildmart is Africa's leading directory and market news website for the building and construction industry | Kenya | Tanzania | Rwanda | Ethiopia