450MW Karpowership to arrive in Ghana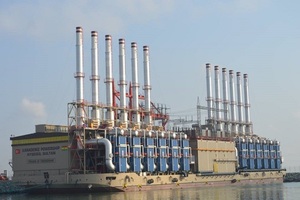 Ghana is anticipating the arrival and connection of a 450MW Karpowership. According to the African Centre for Energy policy (ACEP), it is expected to improve the current power supply situation.
This vessel will replace the previous one, which had a lower generating capacity of 225MW at Tema.
Karpowership to enter docks
According to media resources, the gas-to-power vessel has entered Ghana's territorial waters. It is closer to feeding power into the national grid through a 10-year supply agreement.
The Government of Ghana through the Electricity Company of Ghana signed an agreement with Karpowership Ghana Company Limited. This agreement is for the provision of the 450MW capacity to boost the power supply.
Benjamin Boakye, the Executive director of ACEP, explained that the 250MW was a short term measure to ensure that while we were awaiting the 450MW, we had something to rely on. They had to replace that with the legitimate value that we signed up to and that is what they have actually done.
High cost of power
Boakye has reiterated the need for Ghana to reduce the high cost of power for businesses. His call follows concerns by some industries that Ghana's high cost of power measures high compared to others within the sub-region.
"I think that is something that we all understand and the sector also knows that electricity tariffs are expensive in Ghana. This affects our competitiveness as a country," Boakye commented.
"Today some other factors may go in for us; we are more stable and therefore investors have confidence in investing in a stable economy," he added.
In conclusion, Boakye posed a serious question. "Should other countries gain that stability and credibility that we have, will Ghana still attract investments?"
Posted on : 31 Aug,2017
Buildmart is Africa's leading directory and market news website for the building and construction industry | Kenya | Tanzania | Rwanda | Ethiopia