Mauritus to construct a second passenger terminal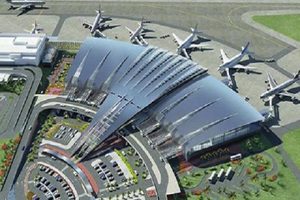 The government of Mauritus has announced it is going to construct a second passenger terminal. Construction work on the terminal is to commence in 2019 and end in 2020. The project aims to modernize the transport sector in the country.
Pravind Kumar Jugnauth, Mauritus prime minister announced this during the cocktail ceremony on the occasion of the 50th anniversary of Air Mauritius on 11 August 2017.
Nonetheless, Air Mauritius has played an important role in transforming the air connectivity in the country. According to the Prime Minister the company helped in bringing Mauritius closer to its main markets. Thus giving motivation to key sectors of the economy.
Air Mauritius is the national carrier of Mauritus. The company aims to support government policies in terms of connectivity with the rest of the world. In particular spurring the growth and development of a nascent tourism industry.
Furthermore, the company seeks to strengthen its fleet with the acquisition of two new airbuses A 350, one by the end of October 2017, and another one by the end of November 2017.
In addition, the company intends to acquire six additional airbuses in the next five years, aiming to provide quality services to the passengers.
According to Air Mauritius CEO, Somas Appavou, the main challenge of the company resides in their capacity to break the glass-ceiling to transform Air Mauritius from a national carrier to a leading and preferred airline in Africa.
The company is also planning to upscale its operation and services based on new business models. Recently, the company launched Air Mauritius foundation to promote arts and culture, conserve the natural heritage and environment and empower youths to contribute to the development of sports and education.
About Air Mauritius
Air Mauritius Limited, operating as Air Mauritius, is the flag carrier airline of Mauritius. The airline is headquartered at the Air Mauritius Centre in Port Louis, Mauritius. Its main hub is Sir Seewoosagur Ramgoolam International Airport.
Posted on : 28 Aug,2017
Buildmart is Africa's leading directory and market news website for the building and construction industry | Kenya | Tanzania | Rwanda | Ethiopia