Construction of hydro power plant in Nigeria halfway complete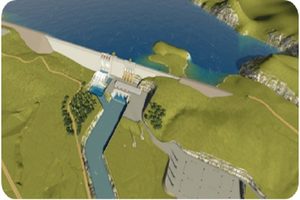 The US$ 1.3m Zungeru hydroelectric power plant in Nigeria is now 47% complete; this is according to China National Electric Engineering Co., Ltd. (CNEEC)
The Deputy Project Manager, Mr. Xiao Nie, confirmed the reports and said that the project, made up of four units of 175mw each, will be complete in 2020.
"We will release the first unit of the power plant which is 700MW in December 2019. and the remaining after every three months," he said.
The project which was inaugurated in 2013 consists of a dam for storage reservoir. It has a maximum operation water level of 230m and total storage capacity of 11.4×109m3.
Moreover, the plant has an annual power generation of 2,640GWh, and will generate and supply electricity to Nigeria's national grid.
This is a good initiative that will eventually improve electricity supply and boost the industrial development in the country. Additionally, the plant will also be helpful for the flood control and development of fisheries and agriculture.
As a result, the navigable period and the length of the fairway will also have an extension.
About CNEEC
China National Electric Engineering Co., Ltd. is a state professional international engineering company. It has furthermore been listed in the top 225 International Contractors for years by ENR, USA.
In summary, CNEEC provides one-stop engineering services of consultation, financing, engineering, procurement, construction, operation maintenance and rehabilitation.
Details in Brief
Project Name: Zungeru Hydropower Plant
Location: On the Kaduna River in Niger State, 150 km from Abuja.
Description: EPC contract consisting of a 700 MW hydropower station, a river dam, a 2,400m RCC roller concrete gravity dam and a clay core rockfill dam. Also, it has a power house behind the dam, a tailrace channel, and two switchyards on both banks. JV between SINOHYDRO and CNEE Co.
Contractual Amount: USD 1.3 billion
Duration of Works: 2013-2018 (57 months)
Owner: Ministry of Mines, Industry and Energy
Financier: China Exim Bank 75%, Nigerian funds 25%
Posted on : 28 Aug,2017
Buildmart is Africa's leading directory and market news website for the building and construction industry | Kenya | Tanzania | Rwanda | Ethiopia