Abuja Rail Mass Transit Project set for commissioning in December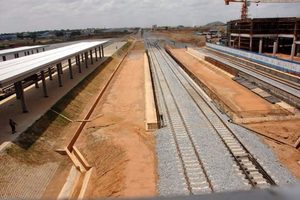 Nigeria's phase one of Abuja Rail Mass Transit Project set for commissioning in December 2017. This is according to the China Civil Engineering Construction Corporation, (CCECC).
The project cost
Kong Tao, Project Manager addressed the journalists touring the site at Idu, Abuja. During his press briefing Mr. Tao said that the rail transit, cost is US$823mn. The project consists of lots 1A and 3, covering 45km with 12 designed passengers' stations.
Additionally, the rail project connects the Nnamdi Azikiwe International Airport all the way to the Central Business District. Also, the line of the rail mass transit is a double-track line of right side running, and standard-gauge is 1435mm.
However, construction work on the large-scale project is smoothly on-going. In November 2017, test-run will be carried out on the project prior to commissioning for public usage in December.
On completion, the project, will generate employment and boost the commercial activities of the host communities. Abuja rail mass transit project is bound to increase the growth of national economy.
Project benefit
Nonetheless, the general public, are to benefit through the realisation of this large-scale project in terms of better investment environment. The project aims to enhance better living condition, more employment opportunities, land value enhancement, energy saving and greater social responsibility.
However, there are concerns about the destruction of the rail facilities of the company. Despite the presence of security personnel, thieves still operate on weekly basis. Additionally, host communities often destroyed the perimeter fencing built to prevent trespassing on the rail track.
Safety is the most important thing in the project operation. The construction of the perimeter fencing is to control trespassing. Intruders break it to cross the rail rack, endangering lives as operational trains move constantly on the rail track.
Abuja Light Rail is a project that is underway to build a light rail transport system in Abuja in FCT, Nigeria. The first phase of the project will connect the city center to Nnamdi Azikiwe International Airport, stopping at the standard gauge railway station in Idu.
Posted on : 28 Aug,2017
Buildmart is Africa's leading directory and market news website for the building and construction industry | Kenya | Tanzania | Rwanda | Ethiopia