MENA healthcare project pipeline valued at $55.2bn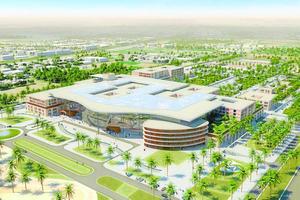 As much as $55.2bn worth of healthcare projects are in the pipeline in the Middle East and North Africa (MENA) region in 2017, with major new developments expected to be announced at the forthcoming Building Healthcare Innovation & Design Show.
According to the latest industry estimates, a total of 37 mega hospital projects are already underway in the Gulf region, worth about $28.2bn and are expected to add 22,500 hospital beds to existing capacity (Alpen Capital Healthcare Report). The rest of the year will be even more robust for the healthcare projects market, with major projects being undertaken throughout the region.
In Saudi Arabia, some of the high-profile projects include the King Abdullah Bin Abdulaziz Project For Development of Security Forces Medical Complexes; King Khaled Medical City, Dammam; King Faisal Medical City, Asir; Mouwasat Hospital, Al Khobar and Amal Mental Health Hospital, Taif.
The MENA region's premier healthcare build and design show, organized by Informa Life Sciences Exhibitions, the world's leading publishing and exhibitions company, Building Healthcare Innovation & Design Show will be co-located with Cityscape Global for the 2017 edition of the show which will take place from 11-13 September at the Dubai World Trade Centre. The decision to merge the two independently successful trade shows comes as an effort to create one unified business platform for the full spectrum of the construction, design and development industries in the region.
More than 150 exhibiting companies and 3,800 participants are expected to attend Building Healthcare exhibition and conference to discuss new healthcare projects, best practice in design and construction and source new technologies and services that will maximise facility operations and improve patient experience.
The show, which will have its own area at Cityscape Global, is the only dedicated platform for professionals involved in the build, construction, design and innovation of healthcare facilities.
Meanwhile, Cityscape Global 2017, also organized by Informa, is expected to attract more than 30,000 visitors and showcase 1,000 of ongoing and new real estate projects in the region.
Commenting on the decision to co-locate Building Healthcare with Cityscape Global, Dave Panther, Vice President of Sales at Informa said, "While Cityscape is a powerhouse when it comes to showcasing the best of what the region has to offer in terms of real estate, Building Healthcare does the same for the build, construction, design and innovation of healthcare facilities. By combining these two platforms, we can ensure that professionals from across the full spectrum of the industry will find everything they are looking for during the three-day exhibition and congress. We expect many new infrastructure developments and real estate projects to be announced during the show,"
According to global property consultants JLL, who are the official content partners for Building Healthcare, it is not surprising that more real estate players in MENA are seeking to diversify into the healthcare sector.
"The healthcare sector offers the ability for real estate investors to participate in a growing market backed by the government, where long-term leases can be structured to major regional and international healthcare providers," said Craig Plumb – Head of Research, MENA – JLL. "From a developer's perspective, healthcare facilities can contribute to the overall attraction of residential communities and also comprises a potential source of demand for commercial space within office or retail projects. While major hospitals may be too specialist for many contractors, clinics and other less specialist medical uses are well within the capabilities of more general contractors."
Building Healthcare attendees will also benefit from the new congress format offering six dedicated conference sessions under the theme "Starting with the End in Mind". The free-to-attend congress provides integrated content addressing the challenges involved throughout the entire lifecycle of a healthcare facility: Vision, Invest, Design, Build, Equip and Manage.
Other new features include a full three-day seminar and workshop schedule that will examine ongoing projects in MENA region, discuss how to invest in new markets and assess case studies of planning, design, and construction that can be used in future projects.
Posted on : 21 Aug,2017
Buildmart is Africa's leading directory and market news website for the building and construction industry | Kenya | Tanzania | Rwanda | Ethiopia