Aveng Infraset builds new concrete roof tile factory in KwaZulu-Natal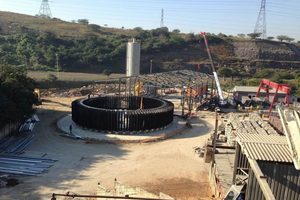 Aveng Infraset has begun the construction of a multi-million-rand concrete roof tile manufacturing facility on its premises in Effingham, Durban.
The new roof tile factory will provide the KwaZulu-Natal roof tile market with high quality, affordable roof tiles.
Moreover, this will address housing and building needs in the region. It will also deploy the latest roof tile manufacturing and packaging technology.
"The decision to establish the roof tile factory using Aveng Infraset's existing infrastructure and resources makes good business sense. We will be able to increase revenue and improve profitability for the business unit through the dilution of overheads," says Stephan van Niekerk, General Manager at Aveng Infraset.
Aveng Infraset's technical team is project managing the construction of the roof tile factory. It will be working with a number of sub-contractors to deliver a world-class manufacturing facility.
One such partner is Vortex Hydra, a reputable supplier of concrete roof tile manufacturing equipment. On the other hand, Aveng Infraset will use proven Italian technology for the production of its concrete roof tiles with various profiles and colours.
"An exciting development for us is that, with the establishment of the new factory, we will be expanding our product offering from three profiles to four and this will allow us to supply the alteration market, which we could not previously access," adds Van Niekerk.
Aveng Infraset's new profile – the double Roman Classic profile – will be sold under the registered trade mark Dusk™.
Completion date
Construction of the factory began in June 2017 and is progressing well. Its completion is set for December 2017 and full-scale production planned to begin in January 2018. Equally important, the new factory will provide employment for 17 people.
In line with Aveng's safety vision 'Home without harm, Everyone, Everyday', the factory will have a strong focus on workplace safety.
"We will incorporate the latest health, safety and environmental technologies in the industry. This will ensure a comfortable and safe working environment for our employees and contractors," concludes Van Niekerk.
Aveng Infraset
Aveng Infraset manufactures a diverse range of precast products for the development of infrastructure.
These include products such as pipes, culverts, retaining blocks, paving, roof tiles, prestressed poles, masts and railway sleepers.
About Aveng
For more than 125 years, Aveng has evolved in character, capacity and reach and continues to make its mark across the globe.
Its origins lie in modest construction projects but Aveng, a leader in infrastructure, now boasts expertise in steel, engineering, manufacturing, mining, concessions, public infrastructure and water treatment.
In summary, Aveng operates in a diverse range of sectoral and geographic markets. Their primary geographic markets are southern Africa and Australia. They leverage our presence in these markets to pursue growth opportunities in East Africa, Southeast Asia and the Middle East.
The company employs some 16 000 people and has an annual turnover in excess of R33-billion.
Posted on : 17 Aug,2017
Buildmart is Africa's leading directory and market news website for the building and construction industry | Kenya | Tanzania | Rwanda | Ethiopia