US$ 203m geared towards completion of FERWAFA Hotel in Rwanda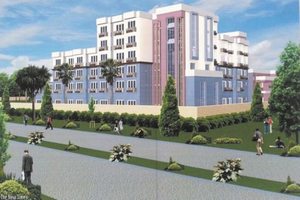 The Moroccan football federation (FRMF) has set aside US$ 203m for the construction of the FERWAFA Hotel.
FRMF committed their annual FIFA Forward Fund to Rwanda Football Federation so as to see the project come to completion.
FIFA in conjunction with FRMF will fully finance construction of the mega hotel. FIFA dedicating 65% and FRMF 35%.
FERWAFA President Mr. Nzamwita Vincent and CAF Executive Committee who doubles as the President of Morocco Royal Football Federation (FRMF) Fouzi Lekjaa signed the agreement.
The signing between the two federations then gave FIFA the go ahead to complete further payment procedures.
"We are so grateful to FRMF for their financial support towards the project that will enable us complete the construction of the hotel," President Nzamwita confirmed.
Aim of constructing the hotel
He also pointed out that the main aim of constructing the hotel was to assist developing countries establish infrastructure and facilities to boost the growth of the game.
Apart from that, the aim is also to create long lasting and sustainable income generation activities.
The hotel is anticipated to reduce the costs incurred during residential training or accommodation during competitions.
Moreover, the hotel will also serve as a means of generating income for different football activities; this is according to FERWAFA.
Once complete, the hotel will have 100 rooms with a capacity to host three national teams.
It is being erected on the section of land adjacent to the headquarters of FERWAFA in Remera, previously occupied by Rwanda Police.
The Royal Moroccan Football Federation known as FRMF is the governing body of football in Morocco.
Posted on : 15 Aug,2017
Buildmart is Africa's leading directory and market news website for the building and construction industry | Kenya | Tanzania | Rwanda | Ethiopia