Cameroon: Olembe Stadium - Future Pride of Cameroon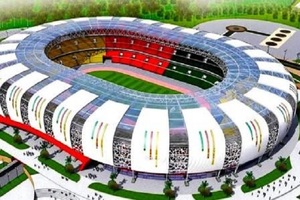 There is no doubt that the Paul Biya Biya Stadium in Olembe which is presently under construction will be among the best stadiums in Africa.
From all indications the Olembe Stadium that will host the opening and closing ceremonies of the 2019 Africa Cup of Nations will be the pride of Cameroon. The Olembe Stadium is being constructed by the Italian giant, Piccini Construction. The bird nest shaped stadium, will be constructed on a surface area of 34 hectares in the Olembe neighbourhood in Yaounde, some 13km from the city centre.
The future Olembe Sports Complex will have a capacity of 60,000 seats all covered, two training stadia with 3000 seats each, play grounds for other disciplines; handball, basketball volleyball, tennis, an Olympic swimming pool, a hotel, shopping mall, five restaurants, 6000sqm for VIP hospitality, cinema conference centre and a hall of fame. At the construction site, bull dozers and other heavy duty construction machinery are at work preparing the ground for the giant project; the first fully covered football stadium in the country.
Recently, officials of Piccini and the Italian Embassy to Cameroon assured the public in a press briefing in Yaounde that the football facility will be ready in eighteen months, October 2018. According to the contractor, most work in the site will consist of assembling the pre-cast equipment.
Over 60 per cent of parts of the building will be produced in Italy and transported to Cameroon through the Kribi port in order to gain time. Already the pre-cast material has begun arriving in the country from Italy via Kribi in the South Region. The arrival of the pre-cast equipment will accelerate work in Olembe in the days ahead. It is worth recalling that, the cost of construction of the ultra-modern sports complex had been estimated at 163 billion CFA francs.
The Italian company, Piccini that has been entrusted with the Olembe Stadium has a thirty-year experience during which they have realised outstanding projects including the construction of the Juventus Stadium in Italy, one of the best in the world, the construction of the Olympic Stadium in Athens, the Olympic Stadium in Rome that was used for the 1990 World Cup and many more.
Posted on : 08 Aug,2017
Buildmart is Africa's leading directory and market news website for the building and construction industry | Kenya | Tanzania | Rwanda | Ethiopia