A Mineral processing plant set to be constructed in Burundi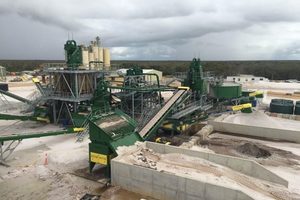 A mineral processing plant is set to be constructed in Kabezi district, 10 km south of Bujumbura in Burundi.
Rainbow Rare Earths Ltd is the company contracted to construct the mineral processing plant which will cost approximately US$ 1.5m.
The mineral processing plant will be put up about 20 km from Gakara mine, which was set up by the London Stock Exchange-listed firm that raised approximately US$ 8m.
This happened after it listed 65 million shares in order to fast-track production in fourth quarter of 2017.
Rainbow Rare Earths confirmed that the processing site has an asphalt road that will ease collection of the rare earth concentrate by container trucks for export.
The export will either be shipped through the Mombasa or Dar es Salaam ports.
Demand for rare earth elements in the global market is increasing due to rising usage of powerful magnets used for electric vehicles, motors and wind turbines
Highest concentration
Rainbow's chief executive officer Martin Eales pointed out that they have completed re-routing an existing lane from the rare earth elements plant processing site in Kabezi.
This will allow the locals to access to the Lake Tanganyika shore and fishing vessels.
The Gakara rare earth element project is the most advanced mining development facility in Burundi.
Activities at Gasagwe is progressing in readiness for commissioning of the processing plant.
Gakara has 47 to 67 per cent rare earth oxide, one of the highest concentrations globally.
About Rainbow Rare Earths
Rainbow Rare Earths is a mining company focused on the exploration and development of the high grade Gakara Rare Earth Project in Burundi, East Africa.
The company is listed on the London Stock Exchange with the EPIC code of RBW.L.
Posted on : 07 Aug,2017
Buildmart is Africa's leading directory and market news website for the building and construction industry | Kenya | Tanzania | Rwanda | Ethiopia