Kariba South Extension project 91% complete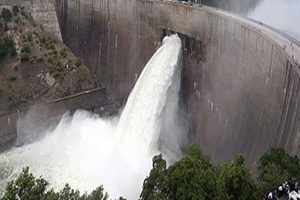 The $533m Kariba South extension project began in November 2014. The dam is expected to add 300MW to the national grid upon completion.
According to the permanent secretary Mbiriri, the first part of the project has been completed. He also added that work is at about 91% complete. Completion is set for March 2018
He also said said water levels in Kariba had shored up. This is a good thing, since the Kariba hydro plant will be used during peak hours. According to him, this is to enable steady water supply as the water levels have not gone up of late.
He also quelled those saying the installation of an additional 300 megawatts is not wise. He further added that as a hydro plant, Kariba should ideally be used as a peaking plant. This means operations will run during morning and evening peak hours.
He said hydro power was convenient since it takes less time to generate power than thermal power, which takes a couple of days. The 300MW will add to the 750 megawatt power plant power station. It will also bridge the huge power deficit between demand and power supply in the country.
The country is currently importing power from South Africa's Eskom and Mozambique's HCB to cover for the power shortfall. Zimbabwe is battling to generate 1 400MW required during peak hours.
Presently, the country generates about 1 000MW.
Contractor
Sino Hydro, won the contract to construct the Kariba South extension power station. This is at an engineering, procurement and construction cost of $354m. There are also other expenses such as consultants, and equity contribution. Others include interest and statutory costs will see total cost rising to $533m.
Posted on : 05 Aug,2017
Buildmart is Africa's leading directory and market news website for the building and construction industry | Kenya | Tanzania | Rwanda | Ethiopia