Teraco is building the biggest data centre in Africa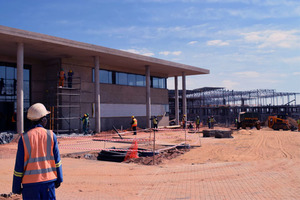 Construction of Teraco's new data centre in Bredell is progressing swiftly.
The company began building the 24-megawatt site in January, which is expected be completed in November 2017.
The completed project will bring Teraco's total power supply to 50 megawatts by the end of the year.
The new Riverfields Hyperscale centre in Bredell will also extend NAPAfrica, the largest Internet Exchange Point in Africa.
Data centre
With a technical deployment space of 6,000m², the Riverfields centre will be the largest commercial data centre in Africa.
The company also completed the construction of its second data centre in Isando, Johannesburg earlier this year.
Teraco now boasts 18,000m² of total white space across its four data centres in Johannesburg, Durban, and Cape Town, it said.
"Hyperscale computing has grown enormously, as has demand for colocation facilities," said Teraco CEO Lex van Wyk.
"These trends combined are shaping the way forward for Africa and we anticipate significant uptake as more service providers pinpoint Africa as a growth market."
MyBroadband attended a media event at the Bredell data centre site on 3 August – which gave us a view of the data centre's progress.
Posted on : 05 Aug,2017
Buildmart is Africa's leading directory and market news website for the building and construction industry | Kenya | Tanzania | Rwanda | Ethiopia