Work on new KATH maternity block progresses steadily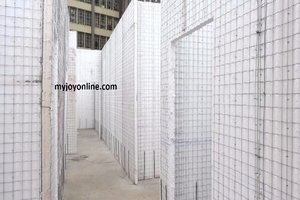 Work on a new Maternity Block for the Komfo Anokye Teaching Hospital (KATH) is progressing steadily.
Africa Building Partners, the contractors, put the extent of work done so far at 30 per cent, adding work will be completed within schedule.
Project Engineer, Stephan Coret says a new technology deployed for the construction -- which involves the use of polyesters -- will speed up the pace of work. The use of the polyesters will conserve energy.
These came to light when a joint team from the First Lady's Office and Multimedia Group Limited toured the project site, Tuesday.
The Contractors say they have overcome unfavourable weather conditions which initially hampered work.
The construction of a Paediatric Intensive Care Unit has been added to the ongoing project.
Project Engineer, Stephan Coret is hopeful the project would be completed on time to meet the June deadline.
"We are working exceptionally long hours; exceptionally hard to achieve the deadline and we are going to achieve it."
The project is under the auspices of First Lady, Rebecca Akufo-Addo and the Multimedia Group.
It is meant to address the needless death of children and women due to lack of space at the existing Mother and Baby Unit.
Two separate fund-raisers in Accra and Kumasi saw individuals and corporate entities contributing about 10 million Ghana cedis in support of the project.
Plans to construct the Mother and Baby Unit follows a documentary by Joy News' Seth Kwame Boateng which highlighted the plight of nursing mothers and their new- born babies at the hospital.
Managing Director of Multi TV, Santokh Singh, is overwhelmed by the progress of work.
"I'm happy with the progress [of work]. It's amazing looking at the technology being used to build this building. I am happy about the energy-saving technology," he said.
He said the Multimedia Group is committed to ensuring the early completion of the project to save more babies from dying.
Posted on : 26 Jul,2017
Buildmart is Africa's leading directory and market news website for the building and construction industry | Kenya | Tanzania | Rwanda | Ethiopia