Construction of Changamwe-Mariakani dual carriageway project launched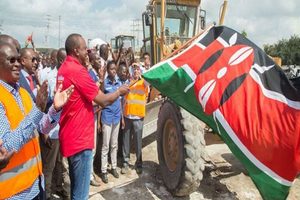 President Uhuru Kenyatta has commissioned the construction of the long-awaited 11.3km Changamwe-Mariakani dual carriageway meant to ease congestion on the busy Mombasa-Nairobi highway.
The President launched the dualling of the Mombasa- Kwa Jomvu Section-Lot 1of Mombasa- Mariakani Highway in Changamwe, Mombasa county /PSCU. Also present during the commissioning was Deputy President William Ruto.
Traffic at the Makupa Causeway, Changamwe roundabout, Jomvu, Miritini and Mazeras, along the highway, has been a nightmare for motorists. However, according to Uhuru, the Jubilee administration is keen to open up Mombasa for increased business.
"Our aim is to improve the lives of citizens by improving the economy. We are doing the work," said President Uhuru in Changamwe.
The investment on infrastructure, especially at the port, will ensure Kenya favourably competes economically with other nations. "With the work we have done at the port, there will be no other port between Cairo and Durban that will be like the Mombasa Port," he said.
"Once these projects are complete, investors from China and other countries will camp in Kenya to do business and provide job opportunities for our youth," the President said.
The US$58.7m Changamwe-Mariakani dual dual carriageway project will have six lanes from the Mombasa Island to Jomvu, and four lanes from Jomvu to Mariakani, will take approximately 30 months to complete, this is according to Transport CS James Macharia. On completion the road will handle 19,000 vehicles daily.
"This project was long overdue. It is historic. For the first time we have a superhighway coming from Mombasa Island," said Macharia. However, interchanges will be constructed at Jomvu, Changamwe and Mikindani.
The Airport-Changamwe-Mombasa Port road is presently at 70% complete. The Jubilee government has so far invested at least US$ 577.4m on roads in Mombasa.
"No other government has invested that much on roads in Mombasa County," said Ruto.
Next month, the government is expected to kick-off the construction of a road that will connect Lunga Lunga with Miritini through the Dongo Kundu project, which will have two bridges, including a 1.4km bridge — the longest in East and Central Africa.
According to Deputy President Ruto, the tender for that road will be opened next month with an aim of expanding Mombasa.
Posted on : 21 Jul,2017
Buildmart is Africa's leading directory and market news website for the building and construction industry | Kenya | Tanzania | Rwanda | Ethiopia