Construction of US$ 6.3m Ntcheu stadium in Malawi to begin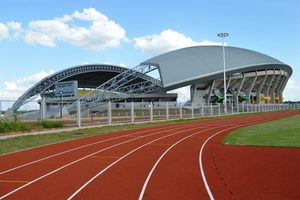 Construction of Ntcheu stadium in Malawi is projected to start by August 15 this year; this is after the tripartite official contract signing ceremony between Ministry of Local Government and Rural Development, Ntcheu District Council and Plem Construction Company.
Principal Secretary (PS) in the Ministry of Local Government and Rural Development, Kinswell Dakamau, after signing the contract agreement, congratulated Ntcheu District Council for working hard for the project to be materialized.
"The council went through a laborious exercise which among other things included planning and procurement of designers and a contractor," said Dakamau.
He further said that the construction of the stadium is a milestone achievement in the development of the district and the country as a whole. It will cost US$ 6.3m for it to be complete and will have a capacity of 20,000 seats, meaning that, it will be bigger than Balaka and Dedza stadiums.
Managing Director for Plem Construction Company, Fleming Kapunda, assured Ntcheu District Council of the company's commitment by abiding to the contract agreement.
"It is a prestige for Plem Construction Company to have been awarded this contract, we will do good work to portray the company's good image whilst ensuring timeliness and quality and sticking to the agreement which we just signed," said Kapunda.
Plem Construction Ltd. is a Civil Engineering company located in Lilongwe, Central Region, Malawi.
Posted on : 20 Jul,2017
Buildmart is Africa's leading directory and market news website for the building and construction industry | Kenya | Tanzania | Rwanda | Ethiopia