New era for timber construction company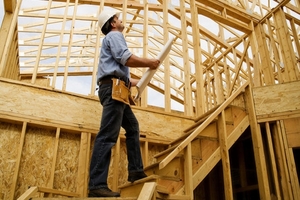 Rustic Homes, forerunner of timber home design and construction in South Africa and leader in the field since the 1980s, has recently undergone a change of ownership, that being Werner Slabbert, timber construction industry stalwart.
Since its inception in the 1980s, the Rustic Homes has established itself as providing high quality timber construction for the discerning homeowner. Humble beginnings Slabbert, whose holiday home construction fell into the hands of unscrupulous timber frame builders, prompting his career change from broadcast engineering to timber frame building, is deeply passionate about his trade.
"When I realised that the builders had disappeared and my house would not be built, I took a month's leave from work and finished the construction of my house with the help of a carpenter," remarks Slabbert.
"During this time, I was approached to build another log home, which I was reluctant to do, given my lack of experience at the time. But thanks to my growing reputation for solid building practice and sound business ethics, the orders kept coming in," he says.
Slabbert's hardearned experience was complemented by his efforts to educate himself on the subject of timber frame construction.
"At the time there wasn't much going on in South Africa in terms of timber construction, so I read up a lot about how the Australians were building with timber, completed a number of courses with a local timber construction association and spent a great deal of time with the late Victor Booth, a well-respected timber frame engineer, considered a 'guru' of his trade in South Africa," says Slabbert.
"Given that almost all my early commissions were from people who had been defrauded by unscrupulous builders, it was important to me to play my part in elevating the standing of the trade, not only from an ethical perspective, but in the line of good and legally compliant building practices as well," he adds.
Giving back Apart from building the successful home building business, Eco Log Homes, Slabbert has played an active role in promoting timber construction throughout South Africa by contributing his time and expertise to various non-gain projects.
"I felt I could use my passion for my trade to make a difference in the sector by promoting timber construction in South Africa. I continue to do this on a voluntary basis, because it is my belief that if an industry is elevated and promoted, all of its constituents will reap the rewards," Slabbert remarks.
Slabbert is the chairman of the working group of the SANS (South African National Standards) 10082 document at the South African Bureau of Standards (SABS), lectures on the subject of timber frame construction at various universities and has presented numerous papers on the subject at various conferences.
Setting the standard Rustic Homes uses a unique and formidable bracing system that goes above and beyond the requirements of current South African building regulations. The end result is that all the walls – including interior walls – are sheathed on both sides and densely packed with insulation, keeping the ambient temperature inside the house moderate, thereby saving heating and cooling costs.
The system renders the walls even more solid, dense and soundproof than conventional timber frame construction, making Rustic Homes' method ideal for commercial buildings, like hotels and B&Bs as well as residential construction.
Rustic Homes also uses a space-enhancing system of flitch beam construction, a combination of timber and steel, which affords longer spans without having to increase the depth of the beam.
This makes wide open, voluminous spaces a possibility and is also ideal for large door openings.
Posted on : 17 Jul,2017
Buildmart is Africa's leading directory and market news website for the building and construction industry | Kenya | Tanzania | Rwanda | Ethiopia