Kenya commissions US$17m electricity project in Turkana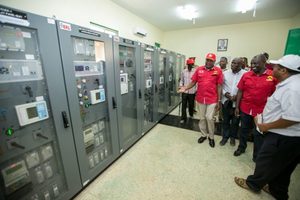 Kenya has commissioned a mega electricity project that connects the largely arid Turkana County to the national grid, boosting the residents' access to reliable and affordable electricity for the first time in history.
Speaking when he commissioned the project, President Kenyatta said the residents of Turkana will no-longer operate under the darkness as they will also enjoy light just like their fellow Kenyans in other parts of the country.
The Kshs 1.69 billion Lokichar sub-station electricity project, implemented through the Rural Electrification Authority, is an initial step towards providing sufficient energy for sustained development in line with the Jubilee's development agenda for the vast arid county that was neglected by previous regimes.
"From now on there will be no darkness in Turkana, this morning we switched on a Government diesel powered generator in Kakuma and they will no-longer be paying Kshs 50 per day to people who privately-own diesel generators. They will instead only be charged Kshs 250 per month," said President Kenyatta.
The project currently covers Lokichar and Kalemung'orok towns but plans are underway to extend it to Lodwar and other towns in the county. Turkana County is emerging to be a major source of electric power in Kenya.
Kengen's Turkwel Hydro Power Plant, situated on the southwest of Turkana County, produces hydroelectric power which is connected to the national power grid at Lessos.
President Uhuru said that with this project in place, the perennial power blackouts will soon be a thing of the past. The residents will now enjoy electricity without experiencing outages.
The President, who was accompanied by Deputy President William Ruto, pointed out that the commissioning of the project is another step towards lighting up the whole county of Turkana, saying soon Lodwar town will be connected to national grid thereby doing away with diesel powered generators.
Posted on : 15 Jul,2017
Buildmart is Africa's leading directory and market news website for the building and construction industry | Kenya | Tanzania | Rwanda | Ethiopia