300 Meter Skyscraper Under Construction in Kenya To Become Africa Tallest Building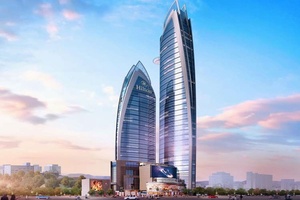 Construction has begun on a 70-floor ultramodern twin tower building in Kenya's capital, Nairobi.
On completion, the 300-meter-tall skyscraper, known as the "Pinnacle," will become Africa's tallest building, beating the current holder, the 223-meter-tall Carlton Center in Johannesburg.
The $200 million project is being financed by Dubai-based private investor firm Hass Petroleum and White Lotus Group, according to CNN.
The Pinnacle has a glass-façade and a multipurpose twin tower complex designed to house a 255-room Hilton Hotel, residential housing, a shopping mall, businesses suites, a health spa, a gym as well as other leisure facilities.
Investors say they are confident the high-end landmark project will be well-received in the Nairobi property market.
Abdinassir Hassan, the east and central Africa chairman of Hass Petroleum, described Kenya as a tourism hub and argued that there is a ready market for what the property is offering.
"We cannot say that because we have built a few malls here and there that there is an oversupply. Kenya is a tourism hub in the continent. Consider the case of Dubai, for instance. There are over 1,500 5 star hotels, which is why everyone is heading there. The same can be said for malls."
"Whatever happens in other parts of the world can happen in Africa as well," Hassan said.
The contract for the project was awarded to China State Construction Engineering Corporation (CSCEC), one of the world's largest construction firms which has delivered a string of major projects, including the African Union headquarters in Ethiopia and the Beijing National Aquatics Centre.
Hassan is hopeful that the project, which includes a helipad on the roof of the taller tower, will be completed by the end of 2019.
"We expect the entire building to be completed by December of 2019, although the 255-room hotel may be completed earlier.
"The building will also have a helipad, which will be at over 800 feet, again, making it the highest on the continent. We thought it wise to put the helipad here so that people can fly directly to the hotel and beat Nairobi's hectic traffic," Hassan said during the laying of the foundation.
Posted on : 13 Jul,2017
Buildmart is Africa's leading directory and market news website for the building and construction industry | Kenya | Tanzania | Rwanda | Ethiopia