Rwandan energy sector gets US$50m to increase off-grid solutions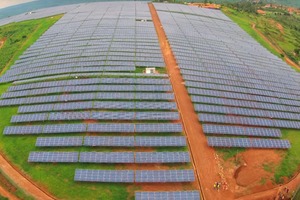 The Rwandan energy sector has received a short in the arm after a financial agreement to enhance power connectivity through off-grid solutions was signed by the Government of Rwanda and the World Bank.
Finance and Economic Planning minister Claver Gatete and World Bank's country manager Yasser El Gammal signed the deal.
The money will be channeled through Development Bank of Rwanda (BRD) under the newly-created Rwanda Renewable Energy Fund.
The $50 million (about Rwf42 billion) funding will play a key role in scaling-up the country's Energy Renewable Programme (SREP) and help increase access to electricity through off-grid technologies, Gatete said during the signing ceremony in Kigali yesterday.
The fund will allow qualified savings and credit co-operatives (SACCOs) and commercial banks to open local currency lines of credit to provide affordable loans to their customers – both households and small businesses, for solar systems purchases.
It will also facilitate collaboration between Rwandan financial institutions and private sector to ensure quality provision of off-grid services and provide direct financing to qualified mini-grid developers.
Finance and Economic Planning Minister Claver Gatete said, "The objective is to increase electricity access in Rwanda through off-grid technologies and facilitate private-sector participation in renewable off-grid electrification."
The Government aims to provide 445,500 new off-grid connections, which will give about 1.8 million people access to off-grid electricity. These new consumers will use electricity for the first time and move away from expensive and harmful fuels such as diesel, kerosene, and dry cell batteries.
Rwandan Energy Sector currently generates about 208 megawatts of electricity with a target of at least 563 megawatts by 2018.According to energy experts, investing in off-grid solutions is an important step forward towards realizing the country's energy targets.
Germaine Kamayirese, the state minister for energy, said the project will assist the Government establish a Renewable Energy Fund (REF), which will help overcome financial barriers to scaling up the deployment of standalone home systems and renewable energy mini-grids in Rwanda.
Posted on : 11 Jul,2017
Buildmart is Africa's leading directory and market news website for the building and construction industry | Kenya | Tanzania | Rwanda | Ethiopia