KURA inks US$19.1m deal for Ngong Road expansion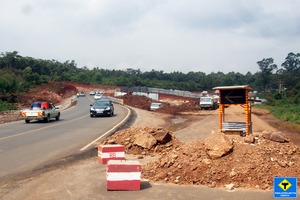 The Kenyan Urban Roads Authority (KURA) has signed a Sh1.98 billion contract with the China Qinjian International Group for the Ngong Road dualization.
The contract entails the expansion of the 9.8km stretch of road from Dagoretti Corner to Karen Shopping centre and the project is expected to take two years to complete.
As part of the construction and infrastructure upgrades the project is intended to elevate Nairobi City's status and its environs.
The scope of works includes a 6.5m wide, two lane carriageways and two roundabouts, one at Karen/Ngong road section and another one at the Karen/Lang'ata Road junction.
Additional to the project details are Bus bays which have also been factored, with footpaths, foot bridges and bicycle lanes featured as well.
On completion, the project expansion is expected to ease movement of traffic that has become a major challenge along Ngong Road. This is the second phase in the expansion of the road as the authority has already began expanding Ngong road from the National Library to the junction on ring road.
According to KURA, phase one of the project will be completed by September. However, It is worth to note that the progress of the first Phase (Ngong Road from Kenya National Library to Ring Road junction) is now 58% and will be completed in the next four months.
The urban roads agency expects the stretch to be complete by July. Ngong Road expansion will involve building four vehicle lanes as well as service lanes on both sides, comprising pedestrian walks and cycling paths.
A special bus lane is also part of the project's details that will be used exclusively by public service buses without interacting with the normal traffic, under the rapid transit (BRT) system.
Another special feature on the road is the intelligent traffic lights at major intersections.
The smart lights at junctions will allow a longer period of traffic flow from roads with most vehicles as opposed to the current analogue lights which are time-based, restricted to allowing and stopping vehicles at intervals.
Nonetheless, Kura invites investors to bid for yet another stretch of the Ngong Road — between Dagoretti Corner and Karen Roundabout — to be financed by the Kenyan government.
The 8km stretch is part of the first phase but had been left out in the Japanese funding, prompting the Kenyan government to step in.
However, Kura communications officer John Cheboi, said that, the tender for the project will be issued by April, paving way for construction in July which will run concurrently with the second phase.
Posted on : 06 Jul,2017
Buildmart is Africa's leading directory and market news website for the building and construction industry | Kenya | Tanzania | Rwanda | Ethiopia