Dubai-based firm wins bid for Garissa-Mandera road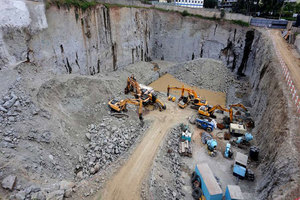 A Dubai-based investment company which is constructing Africa's tallest building in Nairobi, says it has clinched a deal to build the Garissa-Rhamu-Mandera road under the annuity financing framework.
White Lotus Group vice chairman Raju Poosapati told the Business Daily that the investment firm was finalising the agreement with the government to build the 700-kilometre road in Kenya's northern frontier.
"We have a road annuity project for the Garissa-Rhamu -Mandera road. We're finalising the agreement," he said.
Mr Poosapati was speaking on May 23 after laying the foundation stone for the Pinnacle in Nairobi's Upper Hill district, which will have a height of 300 metres upon completion.
The $200 million building — which will host a 45-storey Hilton Hotel, is a joint venture between Jabavu Village, the real estate investment arm of the Hass Petroleum Group, and White Lotus Group.
Mr Poosapati declined to reveal further details on the annuity project. The Africa-focused investment firm has interests in mining, real estate, infrastructure, technology, and agriculture.
The annuity model will see private investors source for funds from lenders which will be applied to design, build and maintain roads.
A payment modality will be agreed upon between the tripartite parties including the government, investor and bank which financed the project subject to certification of works and attaining set milestones.
The cost of the road projects will be pre-determined and the government will help negotiate low-interest rates for the contractors, who will be tasked to maintain the roads they have developed for about six years, the government had earlier announced.
Last month, Transport Cabinet secretary James Macharia indicated the State had abandoned the annuity roads financing model, citing inflated costs and the slow pace of project approvals.
Under the annuity programme, the government planned to build 10,000 kilometres of roads.
"The annuity programme was very slow because it involved many parties like financiers, legal teams and contractors who had to agree on every aspect," Mr Macharia said.
"The 10,000km of low volume seal roads will now be funded through the national budget."
This will be White Lotus' first road project. It has built a correctional facility in Zambia under a public-private partnership model, and an 18-acre mixed use project in Lusaka.
In Kenya, White Lotus has plans to build 2,500 units of residential housing in Nairobi, another 2,600 low-cost housing units in the capital, and 2,000 units of apartments in Mombasa. On the agribusiness front, White Lotus has wheat farms in Narok, cashew nuts and mango estates in Malindi, Kilifi County.
Posted on : 14 Jun,2017
Buildmart is Africa's leading directory and market news website for the building and construction industry | Kenya | Tanzania | Rwanda | Ethiopia