NIGERIA'S STEADY ECONOMIC RECOVERY SIGNALS OPPORTUNITY FOR PROPERTY SECTOR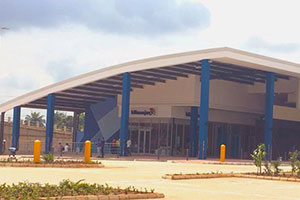 While Nigeria's economic downturn created adverse conditions for international companies operating in the country, leading construction and property solutions company, Profica, adopted an astute approach to doing business that enabled them to weather the storm. Now the company is well-situated to take advantage of Nigeria's anticipated economic recovery.
Profica committed to Nigeria five years ago, and has since had a dedicated team on the ground in the country, offering project management, tenant coordination, development management and construction management services.
Prior to setting up shop in Nigeria, Profica had successfully managed projects in Rwanda, Angola, South Africa and the United Kingdom. Chris Titmas, Profica's Managing Director for West Africa, says of the decision to establish a presence in Nigeria:
"We recognised exciting opportunities in the country, but were also well aware of the unique challenges. Many South African companies had already attempted to make their mark here, and failed. We took a long-term view of operations and were committed to investing extensive time and effort to support this view."
Profica's Country Manager in Nigeria, Malcolm Matanda, speculates that failure to successfully enter Nigeria's market could be arguably due to a dismissive, 'saviour' mentality that premises the importance of advanced economy experience over local knowledge and practice.
He says, "At Profica, we knew that in order to succeed we would have to demonstrate cultural sensitivity, and the most effective way of getting this right would be to develop a truly Nigerian business comprised of local teams that understood the environment."
Offices were set up in Lagos and followed up shortly with the deployment of a team on the ground in Port Harcourt and Abuja. The result has been a Nigerian operation that has quickly grown to become a respected industry leader. And due to a strategy that included building a customer base comprised of both local and international investment, Profica Nigeria was able to weather the economic downturn and the subsequent exit of international investment that the country experienced two years ago.
Currently, a slow recovery of Nigeria's economy is anticipated to a large extent due to oil production and the gradual availability of Forex. Profica Nigeria is already taking advantage of this. Beyond the opportunities identified in the development of office space, shopping malls and hotels, the company is looking at further diversification that includes road infrastructure projects, industrial and logistics plants, and the healthcare sector - where Profica has tried and tested global expertise.
Following completion of two highly anticipated shopping complexes towards at the end of 2016, the Profica Nigeria team has begun work on a 160-bed healthcare facility. Matanda says, "For Profica it is important that our work has residual impact, and that what we do is able to contribute to Nigeria's economic recovery, one project at a time."
Posted on : 08 Jun,2017
Buildmart is Africa's leading directory and market news website for the building and construction industry | Kenya | Tanzania | Rwanda | Ethiopia