Construction of mega mixed-use development in South Africa to kick off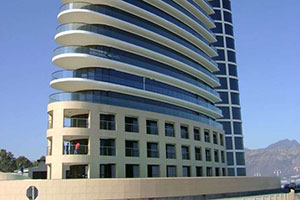 The construction of a US$ 115m mixed-use building in Cape Town in South Africa is scheduled to commence in April this year. This is set to be the tallest building in Cape Town.
The site where the massive building will be developed will be located at the corner of Adderley and Strand streets, across the road from Cape Town Central Station, its designate is however supposed to be redeveloped into the 44 000 m2 tower, which, at 44 stories, will be Cape Town's tallest building.
The development will entail 624 apartments, 760 parking bays, retail space of 5,000 m2, a 360-degree viewing deck and restaurant which will be situated at roof level. Land Equity Group has appointed FWJK to co-develop the mega project.
Stuart Chait, Developer of Cape Town Emerging market property developer Land Equity Group confirmed the reports and said that the project will really transform Cape Town city and lead to the growth of its economy.
"This building is set to transform the Cape Town city skyline and once complete it will mean that it will finally feature in the 'top 10 tallest buildings in South Africa'. The building in fact will be the same height as the Reserve Bank building in Pretoria.''
Chait has in recent times been responsible for various major developments across South Africa, including Melrose Arch, Tyger Falls in Tyger Valley, Big Bay in Bloubergstrand, Nettleton Ridge in Clifton, Victoria Junction adjacent to the V& A Waterfront (Cape Town's first scalable regeneration mixed-use development), Stonehurst Mountain Estate and several other mixed-use projects in South Africa.
"We are now entering an aggressive development cycle, having raised significant funding for a US$ 3bn pipeline of development projects across sub-Saharan Africa as well as South Africa," adds Chait.
The proposed mixed-use development will take 30 months for it to be completed with over 60% has already been sold out. It is still to be named, though its current code name is 'Zero-2-One Tower'.
Posted on : 23 Feb,2017
Buildmart is Africa's leading directory and market news website for the building and construction industry | Kenya | Tanzania | Rwanda | Ethiopia