Nairobi Tops List for Investors in Shopping Malls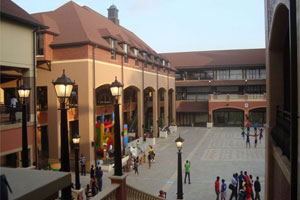 Nairobi has outdone Africa's cities such as Lagos and Kinshasa to turn into sub-Saharan Africa's top destination for developers putting up shopping malls a report by property management firm Knight Frank has revealed.
The report shows that Nairobi has a shopping mall space of 391,000 square metres with an extra 470,000 sqm in the pipeline.
The report, titled '2016 Shop Africa', ranked Namibia's Windhoek capital as the second biggest retail city with a floor space of 260,000 sqm with Botswana's Gaborone following at 247,000 sqm.
Uganda's capital Kampala was listed fourth with a space gauging at 182,000 sqm.
"Among the cities covered by this report, Nairobi sticks out as a key hub for shopping centre development," the report, which covered 47 nations in the continent, affirms.
"It is ranked as the leading market by existing shopping centre floor space and it has the largest development pipeline."
It leaves out South Africa which has an estimated, three million square metre space, seven times more than the rest of sub-Saharan Africa.
Lagos, whose population is at 12.6 million, has an existing mall space of 121,000 sqm with an extra space of 240,000 sqm under construction.
Nairobi has in the past ten years been the picture of shopping mall construction frenzy with financiers looking to cash in on amplified spending power of a budding middle class populace.
The report states economic growth across the continent has created a population that is "brand conscious and technology-savvy" and who "insist on access to the increasingly stylish retail formats" presented by the new malls.
They comprise TRM and Garden City on Thika Road, , Ananas Mall in Thika town, The Hub in Karen and Juja City Mall are among the most recent developments in Nairobi and its locality.
The dapper shopping centers have extensive food courts, supermarket chains, cinemas and luxury clothing lines among other retail stores which provide broad diversity to the shoppers.
Various upcoming malls in Nairobi consist of Two Rivers, Rosslyn Riviera in Gigiri, The Waterfront in Karen, while Garden City and the Village Market are also increasing their amenities.
This budding retail sector has attracted international brands clothing line like Foshini Group, French supermarket chain Carrefour and fast-food companies such as Pizza Hut, Subway and Burger King.
"In sub-Saharan cities where the shopping centre conception has been established, the trend is towards the development of larger and advanced quality malls.
"This is illustrated by Nairobi, by now the largest market in the region by floor space, it has seen its retail offer keep on growing and improving."
Nairobi, Luanda, Lagos, Dar es Salaam and Maputo were ranked as the cities with the biggest upcoming shopping space. The cities have a sum of 1.5 million sqm under development.
Posted on : 30 Dec,2016
Buildmart is Africa's leading directory and market news website for the building and construction industry | Kenya | Tanzania | Rwanda | Ethiopia