Japan Commits to Uganda Infrastructure Investment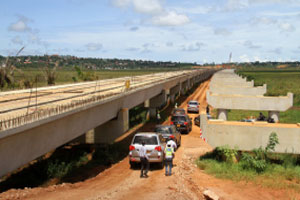 Kampala — Japan is banking on enhancing its footprint in Uganda through investments in quality infrastructure and partnering with a number of local construction firms to help them boost their capacity.
An upcoming Public-Private Conference for 'High-Quality Infrastructure to be held in Kampala early next month will be a key platform in these endeavours, and so far close to 25 Japanese corporations involved in various fields have confirmed attendance, according to the Japanese ambassador to Uganda Mr Kazuaki Kameda.
Speaking last week at the reception to mark the birthday of Emperor Akihito of Japan, ambassador Kameda revealed that the business executives will be led by the Japanese State minister for Lands.
At the margins of the concluded 6th Tokyo International Conference on African Development (TICAD) in Nairobi, "Prime Minister [Shinzo] Abe and President Museveni held bilateral talks covering economic and other issues important for the future of Japan and Uganda," he said.
"Japan re-confirmed our commitment to contributing to the growth of Ugandan economy and pledged to work in a number of areas with a view to promoting the involvement of Japanese private sector in Uganda."
Speaking at the same event, the State minister for Regional Affairs, Mr Philemon Mateke, said since establishment of diplomatic relations cooperation with Japan has been growing stronger.
According to embassy officials, the conference in January will provide opportunity to share elements of Japanese quality infrastructure, experience and skills, through deliberations by experts in various sectors, and for building a cooperative relationship in the field of materials and equipment, including construction machineries and raw materials.
At the TICAD conference, Mr Abe pledged his country's commitment of $30b (Shs132 trillion) to support infrastructure development, healthcare expansion and education programmes on the continent.
The Shs132 trillion for over the next five years is in supplement to the $32b (Shs141 trillion) that Japan committed to Africa during the 2013 TICAD summit.
Already, Japan through its overseas development arm, the Japan International Cooperation Agency (JICA), is financing construction of the $130m (about Shs390 billion) new Nile Cable bridge in Jinja, 80 kilometres away from Kampala City.
Posted on : 13 Dec,2016
Buildmart is Africa's leading directory and market news website for the building and construction industry | Kenya | Tanzania | Rwanda | Ethiopia