South Africa constructs US$ 70m mall in Limpopo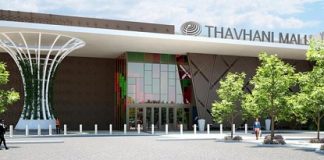 The construction of a US$ 70m mall in Limpopo South Africa dubbed Thavhani Mall is underway with opening date slated for 24 August 2017.
The mall in Limpopo sits on a 27 ha piece of land.
The new mall in South Africa will be the biggest shopping centre in Thohoyandou region as well as the larger Thulamela Municipality, consisting of over 134 shops, restaurants, and service outlets.
Thavhani Mall will further bring in many new retail brands to the region, such as HiFi Corp, Woolworths, Spur, Panarottis, Pep Home, Green Cross, Jam Clothing, Torga Optical, Donna Claire, Queenspark, Mr Price Home, Bogart Man, Edgars, Pick 'n Pay and SuperSpar.
Local businessman, Khosi Ramovha of Thavhani Property Investments, initially visualized a regional mall seven years ago that would be in the Thohoyandou region.
He came up with the idea and delivered it to the board pre-eminent South African shopping centre developers and investors, Flanagan & Gerard Property Development and Investment, so that they could help him actualize this vision.
Additionally, JSE-listed real estate investment trust, Vukile Property Fund, has secured a one-third stake in the new Mall and the stake will transfer to Vukile upon completion of the mega project.
"Thavhani Mall is opening up new horizons in Thohoyandou and stimulating the local economy and also enhancing the lifestyle and urban fabric of region. The mall has already created jobs yet still under construction and scheduled to open next year, will introduce many more full-time jobs.
On top of that sourcing labour from the local community has been prioritized," Ramovha said.
The new Thavhani Mall is at the centre of the ever growing regional economic hub of Thohoyandou, making it easy to access.
Located on the R524, the mall has excellent proximity to its existing CBD and major regional roads which links Louis Trichardt to Punda Maria and is adjacent to the primary crossroad with the major north road to Sibasa and south to Giyani.
Posted on : 13 Sep,2016
Buildmart is Africa's leading directory and market news website for the building and construction industry | Kenya | Tanzania | Rwanda | Ethiopia