Construction of a new contact centre in Kenya has begun by Africa's leading contact centre operator, CCI Global and Gateway Real Estate Africa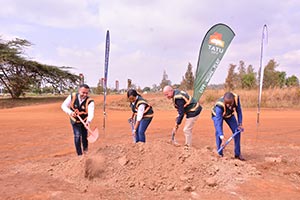 Construction on Eneo at Tatu Central, the company's cutting-edge contact centre in Tatu City, has begun according to CCI Global, the largest international contact centre operator in Africa.
Executives from CCI and the developer, Gateway Real Estate Africa (GREA), who also revealed that Eneo at Tatu Central will comprise a second office tower and a retail centre at Tatu City, officially started off work on the 4,000-seat facility.
According to Mark Chana, Chief Operating Officer of CCI Global, 'We are excited to be extending our operation in Kenya to Tatu City, where our flagship call centre will be the biggest in the country'. 'We will have increased the number of employees in the Kenyan economy by more than 4,000 by the time we open our doors at the end of next year'.
Since entering the Kenyan market in 2016, CCI has experienced rapid growth. It specialises in running outbound, inbound, and web chat multi-channel contact centres that support the financial, technology, telecommunications, and mobile industries in the US, UK, Australia, and other international markets. Business process outsourcing, or BPO, will be offered by CCI's contact centre in Tatu City and will serve the whole customer lifecycle for both conventional phone encounters and digital ones.
Greg Pearson, co-founder and CEO of GREA, said that the company will build a second office tower with retail space next to CCI Global, featuring stores, restaurants, and a grocery store. The remaining area is anticipated to be divided up among other tenants, with GREA and its parent company, Grit Real Estate Income Group, occupying this location as its Kenyan headquarters.
Eneo at Tatu Central, which will have 27,524 sqm of total office and retail space, will serve as the focal point of Tatu City's economic centre.
In view of CCI Global's complete tenancy of GREA's first office tower, Pearson remarked, 'We are glad to offer the second tower to like-minded businesses seeking a supportive, economical, and decentralised environment for their staff'. With houses, schools, and services nearby the workplace, Tatu City offers corporate residents a completely new way of life.
Tatu City is the first Special Economic Zone in existence in Kenya (SEZ). Businesses that are SEZ Enterprises are entitled to a corporation tax rate of 10% for the first 10 years, and a rate of 15% for the following 10 years (the standard corporate tax rate is 30 percent ). Zero-rated VAT (which saves 16%), import duty exemptions, and minimal withholding taxes are further advantages.
At Tatu City, more than 70 enterprises are up and running or in the planning stages, 3,000 kids are enrolled daily in Kenyan and foreign schools, and 3,000 homes are either occupied or being built.
The strategic alliance between GREA and Rendeavour, which includes commercial, warehousing, and logistics expansions in Rendeavour's new towns in East and West Africa, includes Eneo at Tatu Central as its most recent project.
Posted on : 28 Jul,2022
Buildmart is Africa's leading directory and market news website for the building and construction industry | Kenya | Tanzania | Rwanda | Ethiopia