Zanzibar Domino Commercial Tower the largest hotel in East and Central Africa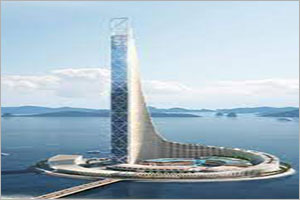 Zanzibar has announced plans to construct Zanzibar Domino Commercial Tower, the largest hotel in East and Central Africa and also the second tallest skyscraper in Africa behind Iconic Tower in Egypt.
A contract was inked between New York and Dubai-based architect xCassia and a joint venture of Tanzania's AICL Group and Edinburgh Crowland Management Ltd that will see the latter come up with architectural designs for the project.
The project which is set to cost US $1.3bn will be a 70-storey building, and is expected to be an iconic feature that will facilitate tourism and culture and offer business opportunities. According to Zanzibar's Minister of State in the President's Office (Economy and Investment), Mr Mudrik Ramadhan Soraga, the project was a big step towards building the isles' blue economy.
Investment philosophy
"Zanzibar Domino is a unique project in line with our investment philosophy of providing investors with superior returns through exceptional schemes as well as strategic socioeconomic projects that leverage prosperity, people and the planet. Its implementation supports the government's efforts in inviting more local and foreign investors to the isles," said Mr Soraga.
Zanzibar Domino Commercial Tower will be a key tourist spot, offering visitors, residents and businesses entertainment, culture and conferencing services. The tower will consist of 560 apartments housed in two towering residences under the brand towards the hotel apartments, a five- and six-star hotel with a total of 360 keys, and other features such as spas and wedding chapels can be accessed separately by helicopter, boat or bridge. The amount to be invested in the project was approved in June by Zanzibar House of Representatives.
Posted on : 02 Sep,2021
Buildmart is Africa's leading directory and market news website for the building and construction industry | Kenya | Tanzania | Rwanda | Ethiopia