UK to develop 10,000 green affordable houses in Kenya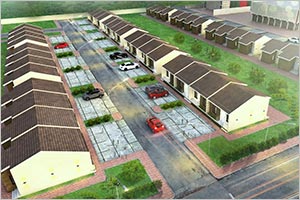 The United Kingdom (UK) is set to develop 10,000 green affordable houses in Kenya. This follows a US $48M commitment made by the UK Climate Investments (UKCI) and FSD Africa Investments (FSDAi) towards a Kenyan green affordable housing venture.
Managing Director of UKCI, Richard Abel said the investment is an inspiring opportunity to simulate how sustainable building structures can help cope with the effects of climate change.. He further revealed that the initiative has received 100% of its targeted US $83M investor backing for the first close, which will allow managed fund to start operations in July 2021.
The green affordable houses in Kenya will focus on improving the affordability of low- and middle-income people. The investment mainly targets Nairobi County, and will help achieve Uhuru Kenyatta's big four agenda and country's goal of developing 500,000 new affordable homes by 2022.
Modern green technologies
The houses will be delivered using modern green technologies and provide affordable ownership and rental opportunities with 100% ownership at an average cost of US $42,000 and rentals ranging from US $132 to US $461 per month
"The investments from FSDAi and UKCI are expected to deepen and strengthen the UK Government's commitment to supporting a green post-Covid-19 recovery in Kenya. The need for affordable housing in Kenya is greater than ever with urban populations increasing by more than 4% in the last five years. Our investment is meeting this need and will benefit thousands of Kenyans currently without affordable housing," said Mr. Abel.
Data compiled by investment partners shows that despite the surge in demand for affordable housing in Kenya, out of the targeted 250,000 housing units, only 50,000 new houses are built each year. This has led to high housing prices and the continuous growth of informal settlements in the city. They also show that almost half of Nairobi's population lives in slums where there are poor and unsustainable construction standards, and limited access to essential services.
Posted on : 04 Aug,2021
Buildmart is Africa's leading directory and market news website for the building and construction industry | Kenya | Tanzania | Rwanda | Ethiopia