By the end of the year, the Nairobi Western Bypass is expected to be completed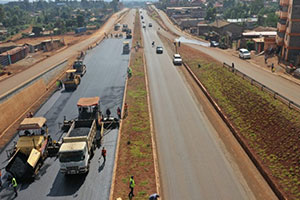 The Nairobi Western Bypass project in Kenya is expected to be finished by December this year, ahead of schedule. According to Transport Cabinet Secretary James Macharia, 64 percent of roadwork on the bypass has been completed, with the remaining construction expected to be completed over the next five months.
We did an inspection and are happy with the results. The project's contractor, China Road and Bridge Corporation (CRBC), has confirmed that the road would be completed within the next five months, according to Macharia.
The bypass runs from Gitaru to Ruaka, passing through Wangige and Ndenderu. The USD 155 million project includes the building of a 15.3-kilometer-long dual carriageway as well as 17.31-kilometers of service roads. In addition, pedestrian barriers will be placed in the centre to prevent individuals from entering prohibited areas.
The Nairobi Western Bypass project also includes seven grade interchanges at Gitaru, Lower Kabete, Wangige, Kihara, Ndenderu, Rumenye, and Ruaka, as well as ten overpasses and five underpasses.
In addition, stormwater drainage systems and box culverts will be built in specific places. A project is a fixed-price contract with a well-defined scope. This implies that CRBC is constrained in its ability to undertake new projects. The project, which is being sponsored in part by the Exim Bank and the Kenyan government, was originally scheduled to be completed in 2022.
It is anticipated to relieve traffic congestion surrounding Nairobi City, enable quick economic growth in the communities along the road, increase the safety of pedestrians and other non-motorized road users, and provide unhindered transportation in the area once completed.
We now have a complete Nairobi circular by completing this route, and you can now go around Nairobi without passing through the city centre. You may utilize the Southern Bypass while you travel about Nairobi, just as you would if you were coming from Mombasa Road. According to Macharia, this would enable seamless connection inside the city.
Posted on : 27 Jul,2021
Buildmart is Africa's leading directory and market news website for the building and construction industry | Kenya | Tanzania | Rwanda | Ethiopia