The relocation of an internet cable for the Nairobi-Mau Summit road project has begun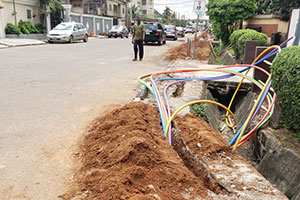 The installation of fibre optic cable has commenced in Kenya in preparation for the building of the Nairobi-Mau Summit road project.
The State Department of ICT and Innovation, which is relocating fibre infrastructure, stated that the move seeks to avoid internet disruptions when the road project begins. The National Optic Fibre Backbone Infrastructure (Nofbi) project, which began in 2005 as the State pushed to connect all major towns with high-speed broadband internet, is one of the important ICT infrastructure projects running along the route.
The Nofbi fibre optic loop now connects 58 settlements in 35 counties across Kenya. The optic cable will be shifted in four lots: Rironi-Naivasha through Mai Mahiu, Rironi-Naivasha, Naivasha-Nakuru, and Nakuru-Mau Summit. The new design will be incorporated into Nofbi and will be linked to all government offices and agencies along the route, as well as the existing licenced internet service providers and telecoms.
The Nairobi-Nakuru-Mau Summit road project is part of the Trans-African Highway, which serves East and Central African nations from the port of Mombasa. The USD 1.4 billion Nairobi-Mau Summit road project include converting a 175-kilometre stretch of road from Rironi to Mau Summit into a four-lane dual carriageway and re-carpeting the Escarpment Road, also known as the Rironi – Mai Mahiu – Naivasha Road.
The project contract was granted to Rift Valley Highway Limited, a French partnership comprised of Vinci Highways SAS, Meridian Infrastructure Africa Fund, and Vinci Concessions SAS. The road will be built using a Public-Private Partnership (PPP). The private sector will generate funds for the project as well as design, build, maintain, and operate the road in accordance with pre-agreed-upon standards and specifications. The road concession is for a period of 30 years.
The road project is estimated to take around three years to complete, and it is intended to significantly reduce travel time between Nairobi and Mau Summit, as well as traffic jams on the route.
Posted on : 27 Jul,2021
Buildmart is Africa's leading directory and market news website for the building and construction industry | Kenya | Tanzania | Rwanda | Ethiopia