Construction of the long anticipated floating bridge in Likoni starts in earnest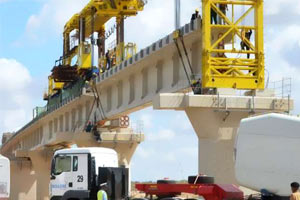 The construction of the much-awaited Likoni Floating Bridge, connecting the island of Mombasa to the south of the mainland, in the coastal region of Kenya, has officially broken land in the Liwatoni area of the island of Mombasa.
The project's construction work is being undertaken by China Road and Bridge Corporation (CRBC) and supervised by the Kenya National Highways Authority (KeNHA), which is under the Ministry of Transport and Infrastructure of the State.
The Likoni floating bridge deck will consist of a 529 m long floating portion, and 54 m long approaches on either side of the floating span, intended exclusively for pedestrians. It will have a discrete-continuous structural system with boats backed by 35 No. double body, and 2 No. end boats with twin springboards mounted to form the floating deck bridge.
Pins and hinges link the floating suspension bridge, and guard rails are mounted on either side of the deck to ensure the safety of the pedestrians. According to Evans Momanyi, who is the Director of Sakawa Agencies Limited, a project subcontractor firm, the construction work for the causeway and a holding bay is expected to be completed by the end of this month. The Likoni floating footbridge, which is the region's first of its kind, is expected to enhance existing ferry services to streamline 'safe passages' for pedestrians and eliminate overcrowding characterizing the busy channel, thus reducing the risk of contracting Covid-19 on vessels carrying over 300,000 commuters and about 6,000 vehicles every day.
According to John Elungata, the Coast Regional Commissioner (RC), it is also predicted that the bridge would build the shortest route between Mombasa Island and the southern mainland and the neighboring Kwale District, thus reducing the connecting distance and reducing the time spent on ferry queuing.
Posted on : 07 Oct,2020
Buildmart is Africa's leading directory and market news website for the building and construction industry | Kenya | Tanzania | Rwanda | Ethiopia