Kenya to secure US $647m for 100,000 housing units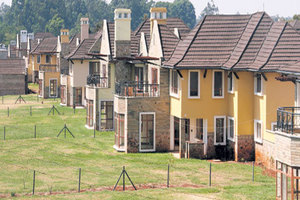 Kenya has confirmed to raise a whopping US $647m to deliver at least 100,000 affordable housing units across the country as part of United Nations Office for Project Services (UNOPS) and the Kenyan government's landmark affordable housing agreement.
Grete Faremo Executive Director of Unops, confirmed the reports and said that the houses will be built using green technologies and energy efficient solar rooftops, while the implementation work will include local equipment, skills and expertise.
This agreement is a major milestone in Sustainable Development Goals (SDGs), and will help the government of Kenya in alleviating the housing crisis in the country and amplifying up its communal amenities to meet community member's needs.
United Nations Office for Project Services
UNOPS will kick start investment with US $10m in seed funding. The Director emphasized that needs of local communities will be a key priority of the project through the inclusion of public facilities such as schools, children's playgrounds and community halls.
UNOPS aids the UN and its partners provide humanitarian and development solutions, peace and security in the developing countries. UNOPS Social Impact Investment Initiative (S3i) seeks to de-risk infrastructure investment projects in an effort to help attract financing from the private sector to national development agendas. This project is designed to ensure a positive environmental, social and economic impact, with a financial return.
It has worked in Kenya since 1995, where it manages a growing portfolio of engagements, including project management, financial management, advisory services, as well as infrastructure and procurement services and human resources management. It is also expected that the project will have a total estimated gross development value of around US $4.7bn.
Posted on : 05 Feb,2019
Buildmart is Africa's leading directory and market news website for the building and construction industry | Kenya | Tanzania | Rwanda | Ethiopia