Egypt to commence construction of the Grant Square Mall of NAC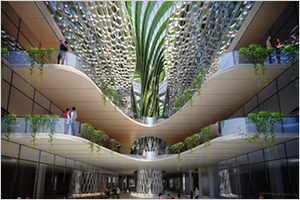 Construction works on the Grant Square Mall in Egypt's first integrated smart city famously known as the New Administrative Capital (NAC), is set to commence with a total investment estimated at US $42m.

Hesham ElKhouly, Chairperson of Pyramids Developments confirmed the reports and said that the company has already began drilling works for the construction project which will be the first commercial administrative medical mall in the business district.

The Grant Square Mall

Hesham ElKhouly, said that the Grant Square Mall is designed in modern French style comprising of a ground floor and seven floors for mixed-use purposes, where the first and second floors are allocated for shops, and the third floor for medical clinics, the fourth and fifth floors are for administrative offices, while the sixth and seventh floors will be a hotel.

The mall is distinguished by its unique location in the business district, located directly opposite the presidential palace, the cabinet, the governmental district, and next to the parliament. Moreover, the mall is being surrounded by universities and entertainment areas. In this strategic location, the mall is expected to double its initial investment value.

The mall is expected to be complete and fully functional by the end of 2020, according to a plan set by the Administrative Capital for Urban Development (ACUD) Company.

About Pyramids Development

Pyramids Development is a real estate development company with the mandate to execute construction of the Grant Square Mall.

The Grant Square Mall l, is considered the companies third project in the Pyramids Development. Mr. Hesham ElKhouly, the company's chairperson said that they have a belief in the feasibility of investment in this giant national project, since NAC is the first integrated smart city on the land of Egypt.

Along with the mall, the company is also developing the La Capital project in the same city on 12 feddan with total investments of US $84m. Mr. ElKhouly, pointed out that the project's built up area does not exceed 22% of the total project's area, and will be delivered fully finished.

Moreover, the company is studying a partnership with another company to develop a 36-acres project in R7 in the New Administrative Capital.

Posted on : 15 Jan,2019
Buildmart is Africa's leading directory and market news website for the building and construction industry | Kenya | Tanzania | Rwanda | Ethiopia