US$70m upgrade to be done at MOI international Airport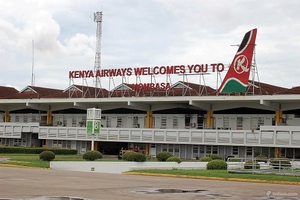 The government of Kenya has decided to fund the Moi International Airport upgrade project in Mombasa costing US $70m, in bid to improve the airport's safety and efficiency.
During the groundbreaking ceremony, Cabinet Secretary James Macharia said the project, which targets to refurbish the air side pavements and airfield lighting system, hopes to attract more charter planes to Mombasa.
James. said, "This is the main airport serving the Coast region, and accounts for over 80 per cent of all international tourists coming to Kenya. However, it does not operate at its maximum capacity. At present, we have 15 charter flights coming to Mombasa every week, up from nine last year. But Moi International Airport cannot rely on charter business alone therefore we need more international scheduled airlines."
Direct flights to Mombasa
Tourism CS Najib Balala, who accompanied Macharia added that the airport has the capacity to serve over two million passengers annually but it only gets around 300,000 passengers per year.
Kenya Airport Authority CEO Johny Andersen said the works will include repair of the runway pavements, removal and replacement of pre-cast concrete slabs and reconstruction of parts of the taxiways and apron.
The project will be funded by Kenya Airports Authority and French Development Agency (FDA); with the consultancy service being sponsored by World Bank. FDA will be funding a major part of the project while KAA will cover a balance of US $5m.
Presently, Turkish Airline, Ethiopia Airline and Rwanda Air are the only ones operating to Mombasa. Qatar Airways is expected to start direct flights to Mombasa in December. Mr. Balala called for Kenya Airways to start direct flights from Mombasa to London.
The air-side pavements and airfield ground lighting system project will take two years to complete while the restoration of pavements is expected to give it a lifespan of 20 to 25 years as the last rehabilitation was done in 1994.
Posted on : 07 Dec,2018
Buildmart is Africa's leading directory and market news website for the building and construction industry | Kenya | Tanzania | Rwanda | Ethiopia