US $215m project for boosting Dar es Salaam water supply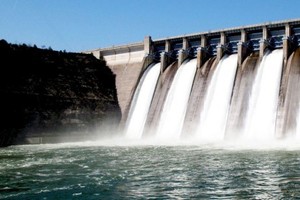 The Kidunda Dam water project in Morogoro Region Tanzania will begin in July 2018. the long awaited dam is being built to improve water supply in Dar es Salaam and Coast regions. The construction is dependent on the materialization of ongoing funding negotiations between the Dar es Salaam Water and Sewerage Authority (DAWASA) and the National Social Security Fund (NSSF).
The authorities are in talks with NSSF to seal a deal. DAWASA Chief Executive Officer, Eng Romanus Mwang'ingo informed the public that the structure of the agreement will include DAWASA finance the US $215m project.
DAWASA has already contributed US $3.15m as compensation. The funds will benefit over 2,000 residents in eight villages in Morogoro Rural District and will also serve as a means to pave the way for construction of Kidunda Dam. The current undertaking of water projects amount to US $32.93m, of which upon completion will see over 500,000 residents of Dar es Salaam and Coast regions gain access to water services.
In addition to the Kidunda dam project, Kimbiji and Mpera boreholes in Kigamboni are also being considered as new sources of water, in a bid to boost supply from Ruvu River which currently provides Dar with water.
The US $32.4m project will put up nine big water tanks with 3 and 6m litres in water storage capacity. It will also help put up other four centres of pumping water.
Areas lined up for benefiting from the project include Salasala, Bunju, Wazo, Makongo, Changanyikeni, Bagamoyo, Mpiji, Zinga, Kiromo, Kitopeni, Ukuni, Kerege, Buma, Mataya as well as the special Export Processing Zones Authority (EPZA). These are receiving services from Ruvu Chini water station. Others are Mbezi Luisi, Kiluvya, Kibamba, Mbezi, Msakuzi, Makabe, Malamba Mawili and Msigani.
Posted on : 07 Jun,2018
Buildmart is Africa's leading directory and market news website for the building and construction industry | Kenya | Tanzania | Rwanda | Ethiopia