Upgrade of Kigoma Port in Tanzania to boost trade in East Africa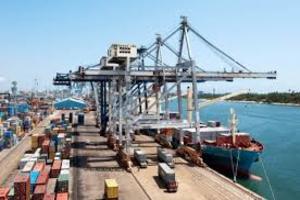 Kigoma is one of the busiest ports located on the north eastern Lake Tanganyika. Recently the Tanzanian government approved plans to create an economic zone at the port to boost trade as well as ensuring stable economic growth of the port.
The port is located close to the border with Burundi and The Democratic Republic of the Congo. Kigoma port currently serves as the capital for the surrounding Kigoma Region and has a population of 135,234 (2007 census) and an elevation of 775 m. Being the only port in Tanzania that has a functioning railway connection which is a direct link to the seaport at Dar-es-Salaam, the Kigoma Port in Kigoma Bay has a wharf of two hundred metres and several cranes and is also equipped to handle shipping containers.
The tender for upgrading Kigoma Port to a port of destination (CIF Kigoma) has been issued for which multiple companies have already expressed interest after the government re-advertised the tender. The re-advertisment of the tender was bid to have a successful bidder who can conduct a feasibility study and detailed design as well as Environmental Impact Assessment (EIA). According to Mr. Atashasta Nditiye, Deputy Minister of Works, Transport and Communications, Tanzania - on completion the Kigoma port will become the final destination for cargo from Burundi and Eastern DRC (Kigoma Port of Destination CIF Kigoma).
The importance of the Kigoma Port is understood by the government of Tanzania as highly important for the best interest of the region, country and the neighbouring countries. Furthermore, the government through TPA during the 2017/18 fiscal allocated funds for the construction of the small ports of Ujiji and Kibirizi and once completed the ports can enable other projects including that of the Ujiji City-Great Lakes Trade and Logistics Centre.
The government came to a decision to re-advertise the tender after the initial tender did not raise a lot of interest. However, the government in this round will assess all bidders who have expressed interest towards the port project in order to get the best bidder. It is also expected that work will kick off soon once the best contractor has been identified.
Posted on : 04 Jun,2018
Buildmart is Africa's leading directory and market news website for the building and construction industry | Kenya | Tanzania | Rwanda | Ethiopia