Construction of superhighway linking JKlA to Nairobi-Nakuru highway to cost US $583.9m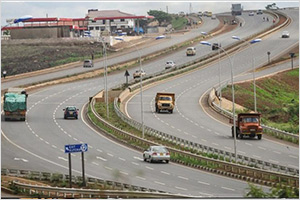 Construction work on the superhighway linking the Jomo Kenyatta International Airport (JKIA) to the Nairobi-Nakuru highway is calculated to cost US $583.9m or US $207.8m more than earlier planned. Authorities have attributed the cost change to change in project design.
Earlier, the Kenya National Highways Authority (KeNHA) had dropped the planned construction of an elevated highway over the entire 43.5km stretch to Rironi in favour of flyovers and underpasses on certain sections of the road.
The project will include expansion of Airport South Road into a dual carriageway, with a new airport security checkpoint and the planned airport rail link.
According to David Muchilwa, the Development Director, the project designs have been evolving along with the costs. Nonetheless, Phase I of construction works covering JKIA to Likoni road is expected to kick start early next year with funding from the African Development Bank (AfDB). The World Bank will also fund the remaining segment.
Meanwhile, motorists using the 43.5km express road will pay a toll charge to escape the current heavy jams to and from the airport and in their commute through the city.
Under the rapid transit system (RTS), the proposed superhighway will have special lanes which will be dedicated to large-capacity buses that are expected to support public commuter services and ease congestion.
Two years ago, the highways authority had put the cost of building the double-decker road, whereby the first project in the region, would have cost US $376.1m, a figure that has now been increased to US $583.9m.
"The stretch around Uhuru Park, for instance, will not have an overpass, so as not to cause visual intrusion. Motorists should have an unobstructed view of the surrounding greenery," said Mr Muchilwa.
The proposed superhighway will feature multiple interchanges at various intersections alongside service lanes.
Posted on : 17 Mar,2018
Buildmart is Africa's leading directory and market news website for the building and construction industry | Kenya | Tanzania | Rwanda | Ethiopia