Construction work in full swing the tallest building in Africa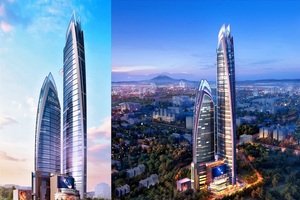 'The Pinnacle' in Nairobi, Kenya, with a height of 300m is on track to become the tallest skyscraper in Africa, easily exceeding South Africa's 223m Carlton Centre. With the foundation stone laid by Kenyan President Uhuru Kenyatta, construction has begun on the mega structure.
Located in Nairobi's vibrant financial hub called Upper Hill and situated at a distance of only 16km from Jomo Kenyatta International Airport, this landmark, luxury mixed-use development is expected to include its own helipad, residential apartments and a 5 Star Hilton Hotel.
Pam Golding Properties in Kenya, has been appointed to market the residential apartments. Backed by the Dubai-based project developers, White Lotus Group and Hass Petroleum of Nairobi, Kenya, the new luxury, development includes two glass-facade towers – one comprising 70 storeys with 20 floors commercial (11 offices and nine retail) and the balance consisting of 209 opulent residential apartments, and the other tower the 45-storey, 255-room Hilton Hotel with conference facilities, luxury spa, gym and open-air infinity pool
The Pinnacle as been designed to include offices, a shopping mall and basement parking, as well as a viewing deck with views to Mount Kilimanjaro and Mount Kenya. Additional features include four high-speed passenger lifts dedicated for residents – travelling at six metres per second, a back-up water supply served by borehole and water storage tanks, back-up generators and built-in internet infrastructure, satellite TV and air conditioning. The residential units will consist of one, two and three bedroom apartments and three bedroom penthouses, ranging in size from 64 to 294 square metres.
The Pinnacle is reportedly attracting a great deal of interest from investors. Even prior to the official launch, the promoters are in talks with buyers who intend to acquire more than one apartment in order to both live and let within the building. The Pinnacle's single and family apartments are designed not just for the global business traveller or local executive, but also for the Nairobi resident looking for a home, with an exclusive blend of luxurious lifestyle and world-class services.
In a statement by Pam Golding, "We anticipate many of apartments will be purchased by investors, the majority being cash buyers, drawn by the close proximity of The Pinnacle to various embassies and high commissions such as the British High Commission and most major bank headquarters. Upper Hill is the 'Canary Wharf' of Nairobi, home to numerous international corporates and organisations. The residential units are ideally suited to high-end buyers seeking luxurious accommodation in a central location, while foreign buyers, whom we anticipate will mostly emanate from East African countries, will want to invest in this iconic development that will be known throughout Africa. We also believe we will be able to lease out the units to the burgeoning middle class and high-end business hub base who are already expressing high interest in this unique property, which is expected to be completed in the second half of 2021."
Posted on : 10 Jan,2018
Buildmart is Africa's leading directory and market news website for the building and construction industry | Kenya | Tanzania | Rwanda | Ethiopia