New City Housing Project in Ghana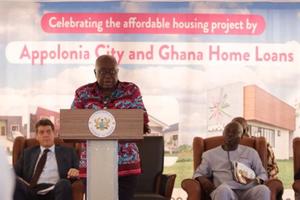 President Nana Addo Dankwa Akufo-Addo broke ground for the commencement of the mega project the Appolonia City Housing Project which with 2,000 affordable housing units are set to be constructed in Accra Ghana. The initiative is aimed at helping reduce the country's housing deficit and is in line with government's vision of using appropriate mix of public and private investments so as to deliver quality, affordable social housing and private housing solutions that meet the needs and financial capacity of all citizens.
"With a housing deficit over some 1.7 million units, the Appolonia City Project is one of the several initiatives that will be introduced along the housing value chain to achieve a cost effective, efficient and sustainable housing sector," the President disclosed, adding that the first 100 houses will be on course and the contractors are expected to create employment to the locals through the project.
"Contractors working on the building projects should employ and provide training skills to members of the community. This is a progressive initiative, a model I would encourage others to emulate," the President said.
Appolonia City is a mixed-use and mixed-income urban development that will be home to 88,000 residents and tens of thousands of daily visitors.
The 2,325-acre project encompasses residential, commercial, retail and light industrial developments, as well as social amenities like schools, healthcare and family parks.
Posted on : 03 Jan,2018
Buildmart is Africa's leading directory and market news website for the building and construction industry | Kenya | Tanzania | Rwanda | Ethiopia